Hogan Says Gawker's Denton Is Lowballing Condo in Bankruptcy
Tiffany Kary
Pro wrestler claims lease plan won't cover monthly costs

Manhattan property worth $4.25 million in December appraisal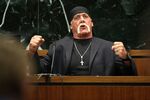 Hulk Hogan helped bring down Gawker Media. Now he's throwing a wrench into the personal bankruptcy proceedings of company founder Nick Denton.
Denton's plan to rent his $4.25 million condominium at 76 Crosby Street in lower Manhattan for $12,500 per month shouldn't be allowed to go forward, because it won't come close to covering the property's monthly costs, and will make it more difficult to sell, Hogan's lawyers said in court papers filed Wednesday. The property is Denton's "only salable investment asset," and depending on what happens in Denton's personal Chapter 11 case, could "prove to be nearly his entire estate," lawyers for Hogan wrote.
The math doesn't work out, Hogan said, noting monthly carrying costs are $20,590.08. The rent wouldn't even cover Denton's $14,985 in monthly mortgage payments, never mind condo association fees of $3,410.57, real estate taxes, homeowner insurance and upkeep expenses, Hogan said, estimating the lease agreement would result in an annual loss of $100,000.
Sex Tape
Denton filed for personal bankruptcy Aug. 1 after he was unable to win a legal shield from the $140 million damages awarded in pro wrestler Hogan's lawsuit that drove Gawker into bankruptcy June 10. Denton and the company are jointly liable.
The invasion-of-privacy suit was brought by Hogan, whose real name is Terry Bollea, after the online media company posted excerpts of a sex tape featuring him.
Most of Gawker's assets were sold in a $135 million deal to a unit of Univision Communications Inc., which didn't take on liability for the verdict. Denton's Chapter 11 petition listed assets of $10 million to $50 million and liabilities of more than $100 million, including Hogan's claim and other pending lawsuits.
Two other parties who have sued Gawker and Denton in similar lawsuits over the soon-to-be defunct gossip and news site's stories about them also objected to the lease agreement for the same reasons.
'Borrowing Money'
"He is essentially borrowing money from creditors to pay for the Condominium," they said in court papers filed Wednesday.
A Denton spokeswoman didn't immediately return a message seeking comment. In a request to enter into the lease, Denton's lawyers said in court filings that if the tenant can't move in soon, the person may walk away and Denton may not be able to find another tenant.
Hogan also complained that there are no details about Denton's plan to rent a "lower cost apartment" in the same building, including what the monthly rent is. Denton's Gawker salary of $41,666.88 per month, or $500,000 per year, will be going away under the sale, Hogan noted, and he will only be paid $16,666 per month for two years under a non-compete agreement entered into as part of the Univision sale.
Peter Thiel, the PayPal co-founder who bankrolled Hogan's lawsuit, has had it in for the company since 2007, when media website outed him as gay, according to the Gawker. Thiel, who sits on the board of Facebook Inc., said in a May New York Times interview that backing Hogan and other litigants is a philanthropic way to help those who can't afford to defend themselves against press attacks and intrusions.
The case is In re Nicholas G.A. Denton, 16-12239, U.S. Bankruptcy Court, Southern District of New York (Manhattan). The company's bankruptcy is In re Gawker Media LLC, 16-11700, in the same court.
— With assistance by Sonali Basak, Gerry Smith, Lizette Chapman, and Dawn McCarty
Before it's here, it's on the Bloomberg Terminal.
LEARN MORE