French Muslims See Burkini Politics Spiraling Out of Control
by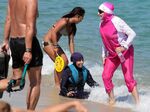 French Muslim leaders Wednesday said they worry that the debate about beachwear for Muslim women is spiraling out of control, a week after Prime Minister Manuel Valls backed a ban on the so-called Burkini on some beaches along the Cote d'Azur.
Muslims "are worried about the way the public debate is turning," Anouar Kbibech, president of the French Muslim Council said in a press release. "A few days ago a woman was fined just for wearing a headscarf on a beach in Cannes."
Kbibech was to meet with Interior Minister Bernard Cazeneuve to discuss the issue, which is the latest identity politics controversy in France.
With more than 200 people killed in terrorist attacks since the beginning of 2015 and a presidential election less than eight months away, some politicians are competing to show toughness in defending France's principle of banning religion from the public sphere.
"Today there's something provocative" about wearing a veil in public, Eric Woerth, secretary general of the opposition Republican party said on BFM TV. "We're in a republic where we don't dare to ban such things and when we don't ban them, we give the power to minorities."
Before it's here, it's on the Bloomberg Terminal.
LEARN MORE