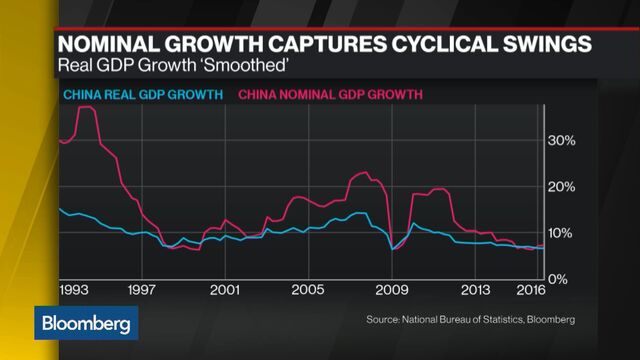 Want to know what's really going on under the hood of China's economy? Then forget about the real gross domestic product number rolled out each quarter by officials and home in instead on nominal expansion, a measure that's unadjusted for price swings.
While China's real growth has edged down 0.2 percentage point since the third quarter of last year, nominal expansion has accelerated 1.3 percentage points, explaining why policy makers are holding back from a big stimulus push, said Harrison Hu, chief Greater China economist at Royal Bank of Scotland Plc in Singapore.
 "Nominal growth does a better job than real growth in capturing cyclical swings," he said in a telephone interview. "Real growth is more likely to be smoothed."

It's thus a better indicator of future policy moves; right now it indicates there isn't a burning need for full-blown policy easing, said Hu. The upturn in nominal expansion may last until the second quarter of 2017, he said.

Provincial-level data published on Tuesday by the National Bureau of Statistics for the first half underscored the divergence between nominal growth and real growth in China. Rust Belt provinces Shanxi and Liaoning registered contractions in nominal figures, while Fujian looked much stronger in nominal terms.

China's real-nominal gap is the latest illustration of the global struggle that the trusty old GDP tool is experiencing. The rise of more amorphous internet commerce and the growth of service-providers such as home-sharing company Airbnb Inc. is making it harder to put a price on economic output. Meantime, GDP is being revised more often and by larger margins, undermining confidence in its accuracy.
For Hu, China's nominal growth is a better guide of both cyclical and structural trends. Downward pressure on the economy is likely to intensify toward the end of this year and be followed by "mini supports," rather than interest-rate cuts or reductions in banks' required reserve ratios, he said.


— With assistance by Kevin Hamlin, Xiaoqing Pi, and James Mayger
Before it's here, it's on the Bloomberg Terminal.
LEARN MORE