China Says Door Ajar for Xi-Abe Summit at G-20 Next Month
by and
Foreign Minister Wang speaks after talks with Japan's Kishida

Top diplomats of Japan, China, South Korea meet in Tokyo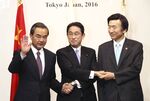 Chinese Foreign Minister Wang Yi said Wednesday that his nation is still considering Japan's request to hold a leaders' summit at next month's Group of 20 meeting.
Speaking after a meeting in Tokyo with Japanese counterpart Fumio Kishida, Wang said that the two sides had to create a "good atmosphere" for a summit to take place between President Xi Jinping and Prime Minister Shinzo Abe at the gathering in the Chinese city of Hangzhou.
"Both challenges and opportunities exist in current relations with Japan," Wang told reporters. "The current situation is like a boat going against the tide -- if it's not going forward, it's going backward."
Their meeting followed three-way talks that included South Korea Foreign Minister Yun Byung Se, during which the nations were united in calling on North Korea to stop provocations such as its ballistic missile launch earlier in the day. Kishida said the ministers would strive for a trilateral leaders' summit this year, as well as continue to push for a free trade deal.
The talks come amid a plethora of tensions in East Asia:
Japan-China
The nations are at odds over sovereignty of a group of islets in the East China Sea. Tokyo is making regular protests to Beijing over almost daily incursions of Chinese vessels into waters around the islands, known as Senkaku in Japanese and Diaoyu in Chinese. Beijing is also aggrieved at Tokyo's tough line against its claims to a swath of the South China Sea.
Kishida told reporters Wednesday that he told Wang that China should cool down its activities around the disputed islands, and sought improved development of resources in the East China Sea.
Wang also said the two nations were close to a deal on establishing an air emergency communication mechanism, and that it could begin "very soon."

Japan-South Korea
While relations appear to be thawing, the two countries are still wrangling over sovereignty of a separate group of islands in the East Sea, also known as the Sea of Japan, as well as historical issues stemming from Japan's wartime aggression. After a bilateral meeting with Yun, Kishida told reporters that he made a complaint over a recent visit by South Korean lawmakers to the islands.
Japan's cabinet earlier approved spending 1 billion yen ($10 million) to cover the cost of an agreement with South Korea over the use of so-called comfort women by the Japanese military during the war.
South Korea-China
Ties hailed by both China and South Korea as the best in history have soured recently over South Korea's decision to deploy a U.S. missile defense shield on its soil. China has reacted angrily, with Wang after a bilateral meeting calling the plan an "out-and-out strategic" move, underscoring Beijing's perception that the deployment is a U.S. plan to contain China in the region.
The Chinese foreign minister said Wednesday that while he welcomed South Korean President Park Geun Hye's visit to China for next month's Group of 20 summit, there are "unavoidable" issues between the two countries, according to Yonhap news. He again told reporters that China opposes deployment of the Terminal High-Altitude Area Defense system, known as Thaad.
North Korea
Amid the talks, North Korea launched another ballistic missile into the sea between the isolated nation and Japan. Pyongyang's missile and nuclear-weapons program is sure to be an important element of the discussions.
Also Wednesday, Japanese Defense Minister Tomomi Inada said the nation's military will begin training to carry out new missions overseas -- a further shift in Japan's pacifist postwar security policy. Inada, inspecting a Maritime Self-Defense Force base in Yokosuka near Tokyo on Tuesday, said China is expanding its activities in the seas and skies near Japan, and continuing to unilaterally attempt to change the status quo, Kyodo News reported.
China's official Xinhua news agency said in a commentary Wednesday that Japan and China "should avoid being the tools for some countries outside the region to undermine regional stability."
"Both Tokyo and Seoul should abandon the Cold War mentality," it said in the commentary. "The three major Asian powers should work together to make their differences controllable."
Before it's here, it's on the Bloomberg Terminal.
LEARN MORE