markets
Colombia and FARC Rebels Reach Final Deal to End 52-Year War
By and
Voters to approve or reject deal in plebiscite on October 2

New legal political party to be guaranteed seats in Congress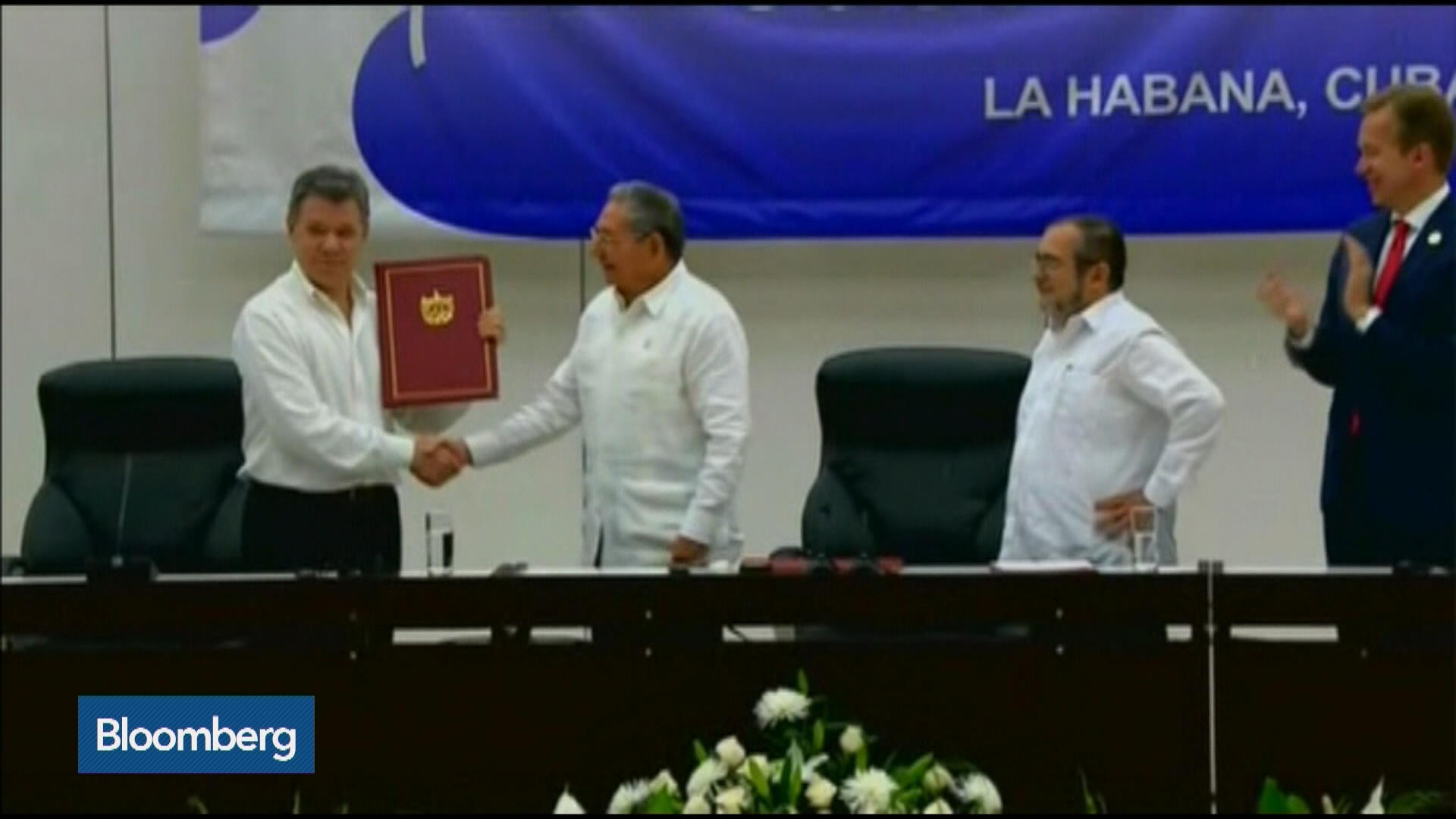 Colombia reached a final peace agreement with Marxist rebels, who will convert into a legal political party, signaling an end to a conflict which has left hundreds of thousands of dead and millions displaced during five decades of bloodshed.
The new movement formed by the Revolutionary Armed Forces of Colombia, or FARC, will participate in elections, and will be guaranteed seats in both houses of Congress for a time. Voters will approve or reject the deal in a national plebiscite to be held on Oct. 2.

"Today we can say the war has ended," President Juan Manuel Santos said in a national address. "We don't want any more of our youth to be cannon fodder in an absurd and painful war."
The insurgency, which the guerrillas financed with kidnapping, extortion and drug money, brought terror to the country, and kept remote regions mired in poverty and underdevelopment. Amid the lack of state control, some landowners set up their own illegal paramilitary groups, which massacred civilians they accused of helping the rebels.
The deal "ratifies the FARC's commitment to close the chapter of the internal conflict, converting itself into a valid actor within the democratic system," negotiators said in a joint press release. The FARC's new party, which will be recognized after the 6-month process of disarmament ends, can contest the 2018 and 2022 Congressional and Senatorial elections. This party will get a guaranteed minimum of five seats in each house in that period.
Economic Convergence

After the agreement is formally signed, the guerrillas will start to deploy to temporary zones where they will hand over their weapons to a UN mission over 180 days. An Invamer poll conducted this month found that 67.5 percent of voters will back the peace agreement in a plebiscite.
The deal comes after four years of talks in Cuba, in which government and FARC negotiators reached agreements on agrarian reform, political participation, reparations of victims, fighting illegal drugs and punishment for crimes committed during the fighting. The text cannot now be amended, Santos said.
Without a conflict, the Andean nation can begin to converge with more prosperous countries such as Mexico, according Jorge Restrepo an economics professor at Universidad Javeriana and director of the CERAC research institution that monitors the conflict.
For more on the outlook for Colombia after the peace deal, click here.

Violent Presence
During the decades of fighting, in which the FARC battled for a Cuban-style revolution in Colombia, it ambushed army patrols, assassinated politicians, laid land mines and hijacked airplanes. Colombians driving outside towns and cities faced the risk of being kidnapped at guerrilla roadblocks. 
In 2002, the FARC, had a "violent presence" in 70 percent of the nation's municipalities, according to CERAC. Many of the FARC's leaders have multi-million dollar rewards put on their heads by the U.S. government, which considers them a terrorist group.
Finance Minister Mauricio Cardenas has said that Colombia will enjoy a "peace dividend" that will add a full percentage point to economic growth. The more secure environment will allow the grassland east of the Andes to be opened up to more high-tech agriculture, according to the government, while energy companies such as Ecopetrol gain from not having their pipelines blown up.
— With assistance by Oscar Medina
(
Adds date of plebiscite in second paragraph.
)
Before it's here, it's on the Bloomberg Terminal.
LEARN MORE