Cnooc Posts 1st Half-Year Loss on Canadian Oil Sands Charge
By
Reports first-ever half year loss at 7.74 billion yuan

Total output slips more than 5% from second half of 2015
Cnooc Ltd. posted its first-ever half-year loss as crude's plunge and writedowns on assets, including Canadian oil sands, destroyed profit at China's biggest offshore oil and gas producer.
The company swung to a 7.74 billion yuan ($1.16 billion) loss in the January to June period, compared with a net income of 14.7 billion yuan a year earlier, the Beijing-based explorer said in a statement to the Hong Kong stock exchange on Wednesday. Oil and gas revenue fell 28.5 percent to 55.08 billion yuan and the company declared an interim dividend of HK$0.12 per share.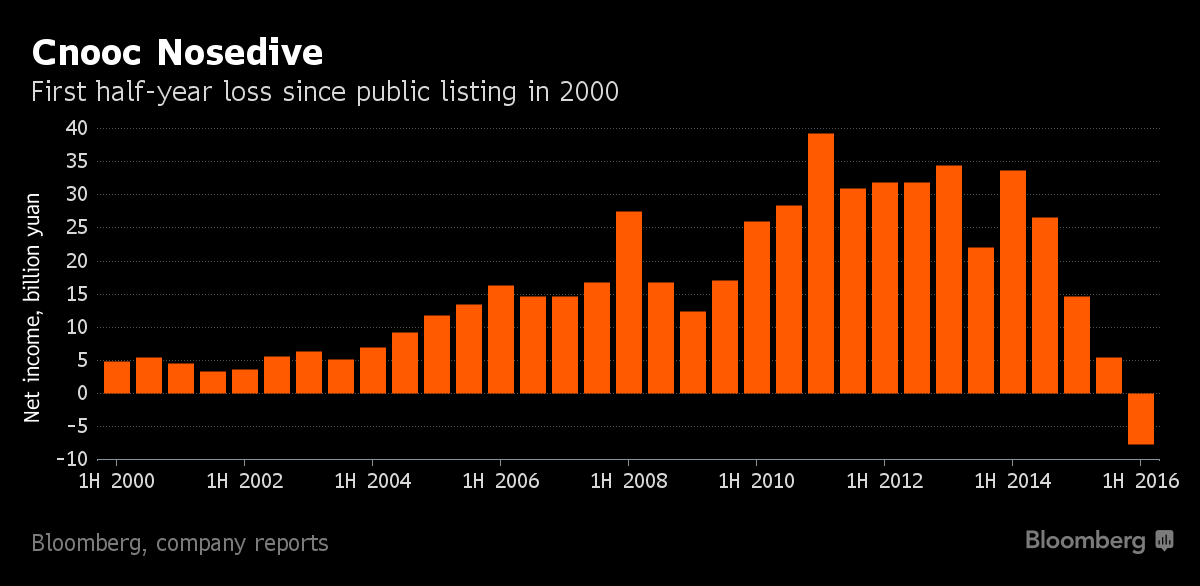 During the first half of the year, Brent crude, the global benchmark, averaged roughly 30 percent lower than the same period in 2015, roiling global explorers. Prices have whipsawed this year, flipping five times between bear and bull markets, as production from nations outside the Organization of Petroleum Exporting Countries, including China and the U.S., declines in the wake of a price crash that began in 2014.
"Cnooc has already done all it can to cut costs and improve efficiency as offshore exploration is indeed more expensive than offshore," Tian Miao, a Beijing-based analyst at North Square Blue Oak Ltd. said by phone. "Compared to other integrated explorers, Cnooc is totally exposed to crude prices. And what the company may do moving forward depends largely on which direction crude price may go in the second half."
Most of Cnooc's 10.4 billion yuan impairment charge came from oil sands assets in Canada, Chairman Yang Hua said in a briefing in Hong Kong Wednesday. The short-term pressure from low crude prices and relatively high production costs won't shake the company's confidence in its oil sands investments, he said.
"We look at the fuel from a 30 to 50 years perspective, not three to six months," he said.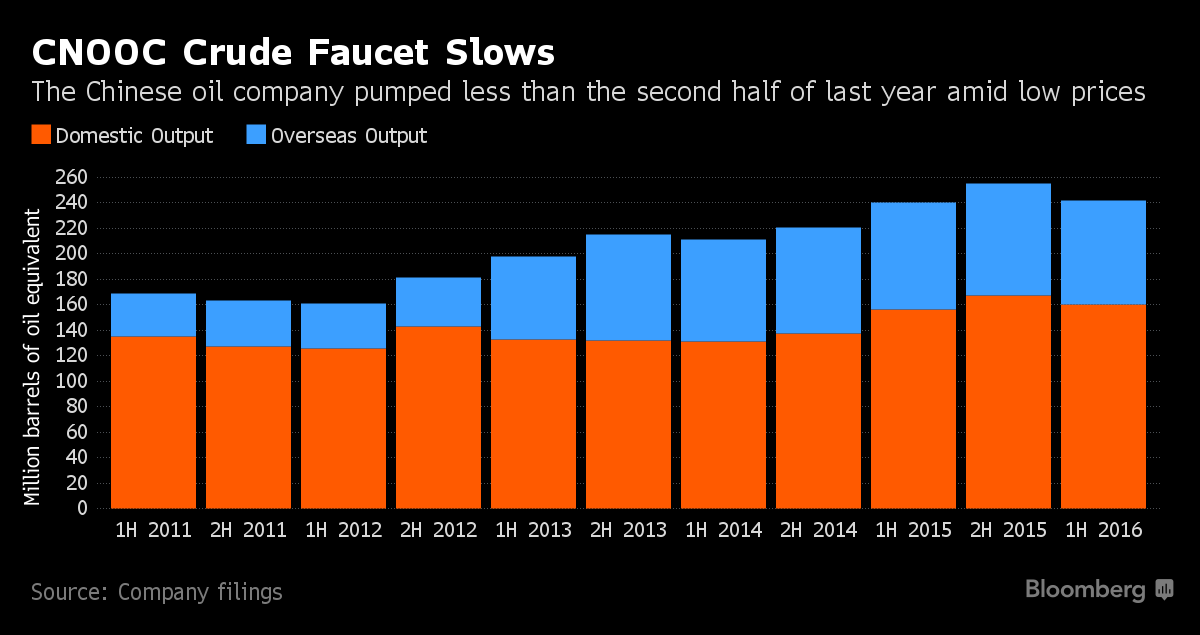 Cnooc's output in the first six months of the year rose 0.6 percent to 241.5 million barrels of oil equivalent, Cnooc said in the statement. That's down more than 5 percent from the second half of last year. Cnooc said in January that full-year production will fall for the first time since 1999 and that capital spending would be capped at 60 billion yuan. The company maintained its full-year production forecast at 470 million to 485 million barrels this year, from 496 million barrels of oil equivalent in 2015.
Cnooc's all-in cost per barrel of oil equivalent fell 15.5 percent to $34.86 compared with the same period last year. Capital expenditure for the first half dropped 33 percent to 22 billion yuan. The company will attempt to control capital spending within the previously announced 60 billion yuan target through 2016, President Yuan Guangyu said at the same press conference.
'Exceptional' Cost Cuts
Cnooc delivered "exceptional" spending cuts with both production costs and capital expenditure declining in the first half, Neil Beveridge, a Hong Kong-based analyst at Sanford C. Bernstein & Co., said in an e-mailed note. Beveridge rates the stock as outperform with a target price of HK$12.80.
Cnooc shares dropped 0.2 percent to HK$9.61 at the close in Hong Kong Wednesday. The stock has risen 19 percent this year, outpacing the benchmark Hang Seng Index's 4.1 percent gain.
The explorer made six new discoveries and 20 successful appraisals in offshore fields in China in the first half, and drilled 6 successful appraisal wells overseas, it said in the statement. Two of the four new projects planned for the year have already come on stream.