China Oil Giants Unmoved by Bull Rally After Worst Earnings
By
PetroChina profit saved by Central Asian pipelines sale

Cnooc posts first-ever half-year loss on Nexen writedown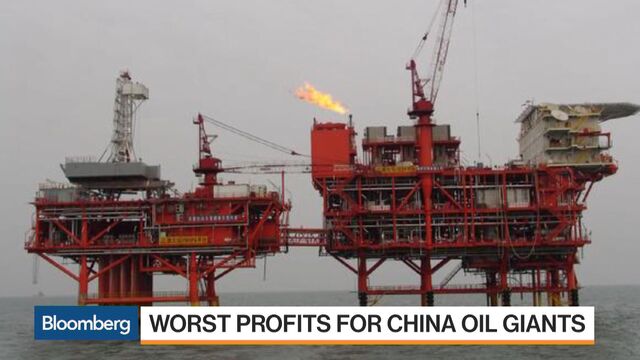 After posting their worst-ever half-year results, two of China's oil giants aren't getting carried away by crude's return to a bull market, forecasting a rocky path ahead.
PetroChina Co., the country's biggest oil and gas company, and Cnooc Ltd., China's main offshore explorer, reported the weakest earnings since they were both publicly listed. About a week after oil capped a 22 percent gain from its previous low, the two producers that together account for about 70 percent of the country's crude output both struck a cautious note about the outlook for prices in the coming months.

"Looking ahead to the second half of the year, uncertainties still remain in both the international and domestic macro environment," Cnooc Chairman Yang Hua said in the company's filing on Wednesday. "Further recovery of international oil prices faces headwinds."
Oil has whipsawed this year, flipping five times between bear and bull markets, as output from nations outside the Organization of Petroleum Exporting Countries, including China and the U.S., declines in the wake of a price crash that began in 2014. The latest surge was driven by speculation that informal discussions among OPEC members next month may lead to action to stabilize the market.
Weak Recovery
PetroChina's net income dropped 98 percent to 531 million yuan ($80 million), the state-run explorer said in a statement to the Hong Kong stock exchange on Wednesday. The company was saved from a loss by the 24.5 billion yuan gain it booked from the sale of Trans-Asia Gas Pipeline Co., which it announced in November.
"In the second half of 2016, the recovery of the global economy will remain weak and financial markets will tend to be unstable due to significant political events including Brexit," PetroChina's Chairman Wang Yilin said in the company's earnings release. "The overall supply in the international oil market will continue to be sufficient and the global oil price is likely to keep fluctuating at a low level."
Brent crude has lost more than 50 percent in the past two years. The global benchmark traded at $49 on Thursday. Citigroup Inc. this week cut its forecast by $2 for the last two quarters of the year to $47 and $50 a barrel, respectively.
Positive Payout
Cnooc swung to a 7.74 billion yuan loss, compared with a net income of 14.7 billion yuan a year earlier. It booked a 10.4 billion yuan impairment on its assets. Most of the charge was related to its Canadian oil sands operations, Yang said Wednesday in Hong Kong.
Despite the loss, Cnooc decided to pay out a HK$0.12 interim dividend. PetroChina announced a special dividend of 0.02 yuan per share on top of its usual dividend distribution of 45 percent of profit.
"The positive here is the willingness to pay beyond its 45 percent payout policy" by PetroChina, Aditya Suresh, an analyst at Macquarie Capital Ltd., said in a research note.
High production costs, aging fields and low prices have resulted in a decline in China's domestic crude output, helping drive imports by the world's second-biggest consumer to a record. The country's crude production in July tumbled to the lowest since October 2011 and has slipped 5.1 percent in the first seven months of the year, according to data from the National Bureau of Statistics.
PetroChina's capital expenditures in the first half of the year fell 17.5 percent to 50.9 billion yuan. Cnooc's spending for the period dropped 33 percent to 22 billion yuan. The offshore producer will attempt to control capital spending within the previously announced 60 billion yuan target through 2016, President Yuan Guangyu said Wednesday in Hong Kong
Cnooc shares fell 2.1 percent to HK$9.41 as of 9:37 a.m. in Hong Kong, while PetroChina lost 1.7 percent to HK$5.18. The city's benchmark Hang Seng Index declined 0.2 percent.