Brexit Bulletin: Labour's Challenger Seeks to Block Exit Talks
Owen Smith promises to vote against triggering Article 50, as EU firms consider reducing their U.K. business.
By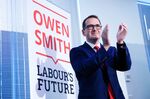 Sign up to receive the Brexit Bulletin in your inbox.
Would-be Labour Party leader Owen Smith is tapping into discontent over Brexit again in his bid to challenge Jeremy Corbyn. He promises today that he would try to block the start of exit talks by voting against any attempt to trigger Article 50 unless Prime Minister Theresa May commits beforehand to putting the final divorce deal to another referendum or a general election.
"The British people were lied to by the 'Leave' campaign: they deserve to have a say on whatever exit deal the Tories strike with the EU," Smith said. "Nobody knows what Brexit looks like. It could involve trashing workers' rights and environmental protections, opening our National Health Service up to foreign competition, making it harder for us to trade with our neighbors and damaging our economy."
There are a few obstacles to the plan: one is that Corbyn remains bookmakers' favorite to win the leadership contest. Labour obviously doesn't have a majority in Parliament. And it's not yet certain that May will seek Parliament's approval to trigger Article 50.
Read more on the debate about Parliament's rights and role here.
Severing Links
More than a quarter of European companies plan to reduce the amount of business they do with U.K. banks after Britain exits the European Union, according to a survey by Greenwich Associates.
Twenty-eight percent of companies on the continent are planning to move away from British banks, with 20 percent shifting business to global lenders, the financial services consulting firm says, as Bloomberg's Gavin Finch reports.
In case you missed it yesterday, German lawmaker Michael Fuchs, an ally of Chancellor Angela Merkel, said the EU won't bend the rules to preserve the City's access to the single market. So-called passporting rules, which allow banks to offer services across the bloc, are "not negotiable," he said in an interview with Bloomberg's Francine Lacqua.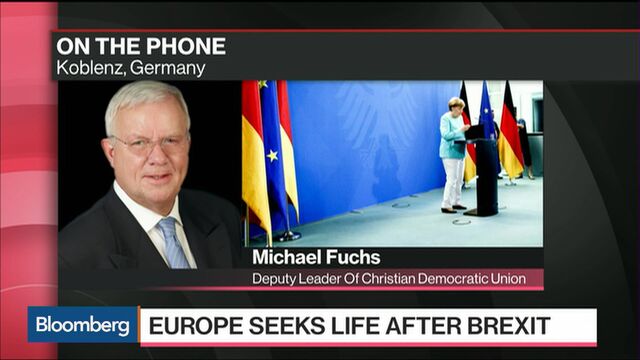 Brexit's Winners
Brexit turns out to be good news, at least for now, for investors in European bonds. Spanish, Italian and Irish bonds have all gained since the referendum as investors expect the European Central Bank to add stimulus to shield the region from the economic fallout. Add this to the list of unexpected consequences of Brexit: the government bonds of the most indebted countries have led gains across the euro region. 

Big Spenders
U.K. consumer credit also rose in July at the fastest pace in almost a decade as shoppers snapped up summer goods and made the most of low interest rates on loans, Bloomberg's Fergal O'Brien writes. The British Bankers' Association said credit rose 6.4 percent from a year earlier, while business lending rose 2.6 percent, the most since early 2015. 

Other Brexit winners are retailers selling to foreign tourists. International tax-free shopping in the U.K. rose 7 percent in July from a year earlier as the pound's post-Brexit-vote slide reduced costs for foreign tourists, according to Global Blue. Visitors from Qatar had the highest average spend per transaction while Japan, Indonesia and the U.S. accounted for the biggest increases in purchases, writes Bloomberg Gadfly's Andrea Felsted.

On the Markets
European equities climbed for a third day, with investor confidence slowly coming back amid the calmest market in more than a year. The Stoxx Europe 600 Index rose 0.5 percent, nearly erasing its losses from last week. Banks headed for their highest prices since the referendum.

And Finally...
Former Foreign Secretary William Hague has a new gig, according to the according to the Times. Political advisory firm Teneo, which hired Hague last year, has appointed him to its new "Brexit client transition unit," the paper says. 

For more on Brexit follow Bloomberg on Twitter, Facebook and Instagram, and see our full coverage at Bloomberg.com