Brazil Opens Impeachment Trial That May Hold Key to Recovery
Samy Adghirni, Anna Edgerton and Mario Sergio Lima
Senate to vote by Wed. whether to permanently oust Rousseff

Temer would take over top job amid worst recession in decades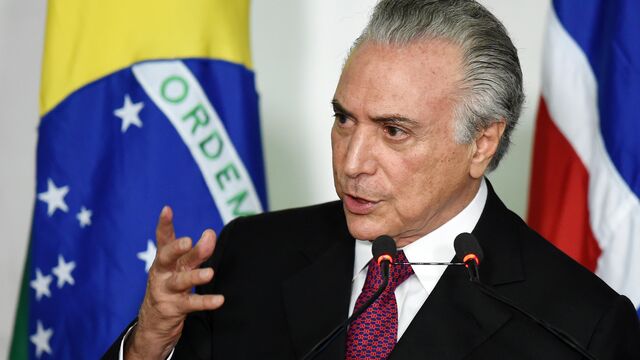 Brazil's Senate opened a historic impeachment trial on Thursday that is expected to result in President Dilma Rousseff's permanent ouster and give her successor Michel Temer some of the legitimacy he needs to revive economic growth.
QuickTake Brazil's Highs and Lows
The trial that began with debates over procedural issues is scheduled to finish with a vote Tuesday or Wednesday next week on charges that Rousseff illegally financed government spending. The chamber's 81 legislators need 54 votes to end the mandate of Rousseff, who will take the stand on Monday.
The vote will cap an almost nine-month impeachment process that exacerbated the worst recession in decades and paved the way for Rousseff's suspension from office in May. While investors have applauded Temer's pledge to slash a near-record budget deficit and create a more business-friendly environment, markets have leveled off in recent weeks as they wait for more concrete results.

"Now it's up to him not to fail," said John Welch, an economist at Canadian Imperial Bank of Commerce and long-time follower of Brazilian politics. "There'll be no more excuses."
Supreme Court Chief Justice Ricardo Lewandowski presides over the trial, making it harder for Rousseff's supporters to say that the process is an illegal coup. A positive outcome for Temer would help him consolidate his leadership of the government and push for controversial fiscal austerity measures, said political scientist Marco Antonio Carvalho Teixeira. Those include proposals to cut pension payouts and deregulate the job market.
But reviving the economy will prove no easy task, especially as rifts in Temer's alliance threaten to intensify once the common goal of ousting Rousseff is gone. Coalition members in Congress have already started to butt heads over measures that would cut into wages of civil servants and judiciary workers.
Click here for another look at Brazil's economic challenges.
"The real problem of Temer is his own support base," said Carvalho Teixeira, who works at the Getulio Vargas Foundation, a Brazilian research group and business school. "The fact that the government needs to face unpopular measures will only deepen differences."
Tried, Failed
Rousseff has repeatedly tried to challenge the impeachment process in court, with Chief Justice Lewandowski on Tuesday denying the latest request. She also proposed holding a plebiscite on new presidential elections if she survives, in an appeal to voters and legislators. But even the leaders of her own Workers' Party this week rejected the idea, newspaper Folha de S.Paulo reported.
Rousseff has said repeatedly she won't resign. "I won't make things that easy for them," she said earlier this month. In her last public appearance before the trial, she remained defiant and said that going to the Senate to present her own defense won't give legitimacy to the process. "We respect the institutions, not the coup plotters," she said at an event with various groups representing women, students and unions on Wednesday night.
Wary of potential tactics to delay impeachment, Temer allies intend to accelerate the trial and will allow only party leaders to question witnesses, according to Senator Cassio Cunha Lima, a member of the Social Democracy Party that supports the acting president.
Confident they will succeed in ousting Rousseff with at least 60 votes, Temer allies are already discussing details of his inauguration ceremony and the removal of Rousseff portraits from government buildings. Temer plans to travel to the Sept. 4-5 Group of 20 leaders' summit in China as soon as impeachment is over.
Work Remains
The acting president has already enjoyed some progress on the economy. Consumer and business confidence are rising, while retail sales and industrial production have shown sings of improving. The real has appreciated 23 percent against the U.S. dollar this year, while the Ibovespa stock index is the best performer in the world.

Unemployment, however, has surged into the double digits, while the primary budget gap is years away from closing, according to government estimates. Congress has been slow in recent weeks to approve Temer's measures to shrink the deficit, at times lacking quorum to vote on proposals to contain spending and boost revenue.
"The real tough reforms are only now going to be coming to a vote, with the leeway Temer will receive by being made president proving little respite," according to analysts at political consulting firm Eurasia Group, including Christopher Garman and Joao Augusto de Castro Neves.