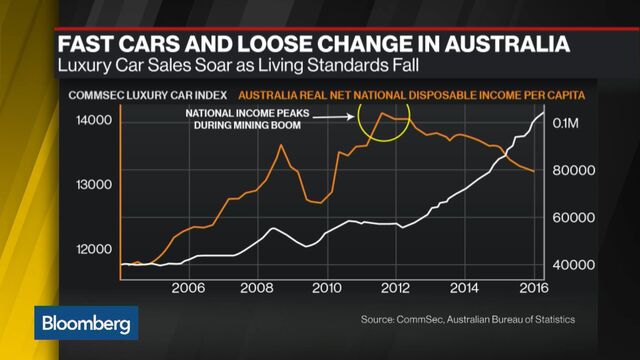 Aussies are buying Bentleys, BMWs and Mercedes in record numbers even as living standards fall in a sign that rising inequality seen in the developed world is spreading Down Under.
Top-end car sales surged to a record 104,277 in the 12 months through July, a 15.7 percent increase on the same period a year earlier, according to an index collated by CommSec, Commonwealth Bank of Australia's brokerage unit. Overall new vehicle sales last month climbed just 1.6 percent on an annual basis. 

"A lot has been made of softer economic conditions over the first half of 2016, however the same cannot be said for the luxury car market,'' said Savanth Sebastian, an economist at CommSec. "Higher home prices are boosting wealth levels and consumer spending. Aussie consumers are keeping it quiet, but they are buying luxury cars in record numbers.''
Australia's central bank cut rates to a record-low 1.5 percent this month as it tries to tame the currency and spur consumer spending. But easy monetary policy can disproportionally hurt lower income earners as the wealthy can benefit from stronger financial and housing markets fueled by cheap money. In the first three months of this year, Australia recorded its ninth straight quarter of falling net disposable income per capita.
Australia has traditionally taken pride in its egalitarian culture as an economic halfway house between the U.S. and European models: maintaining a robust welfare state without stifling business via excessive taxation. That's even as its income inequality ranking sits above the Organisation for Economic Cooperation and Development average.
Yet low interest rates are clearly having some positive effects. Consumer confidence jumped following this month's cut and is now close to a three-year high; most Australian borrowers are on floating rate mortgages and as a result any reduction in the benchmark quickly flows through to their wallets.