At Fox News, Election Year's Big Ratings Mask Many Wrinkles
By
Network needs to lure younger viewers, analysts, ad execs say

Presidential race has fueled gains for Fox, CNN and MSNBC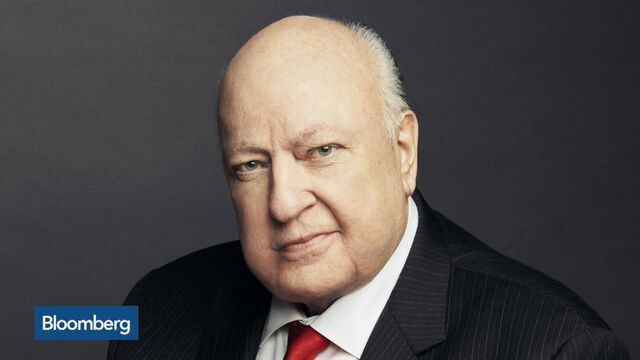 21st Century Fox Inc. has a problem at its news channel that isn't Roger Ailes: the network's aging audience.
Fox News's average prime-time viewer was 68 in the second quarter, according to Nielsen data the network pointed to, and has been above 65 for years. That tarnishes what's likely to be the best year ever for Fox News, the most-watched cable channel in the U.S. during the presidential election season. Audiences at CNN and MSNBC are also in their 60s, but they are younger on average than Fox's and in some ways more attractive to advertisers.
Fox is rebuilding the leadership of its prized cable channel, the most profitable part of Rupert Murdoch's media empire. Sexual harassment allegations led to the resignation of its 76-year-old founding chief executive Ailes, and now Fox News is being led by Murdoch, 85. The controversy adds to the network's challenges as it tries to improve its standing with younger viewers, knowing history's best-ever cable news cycle won't last forever.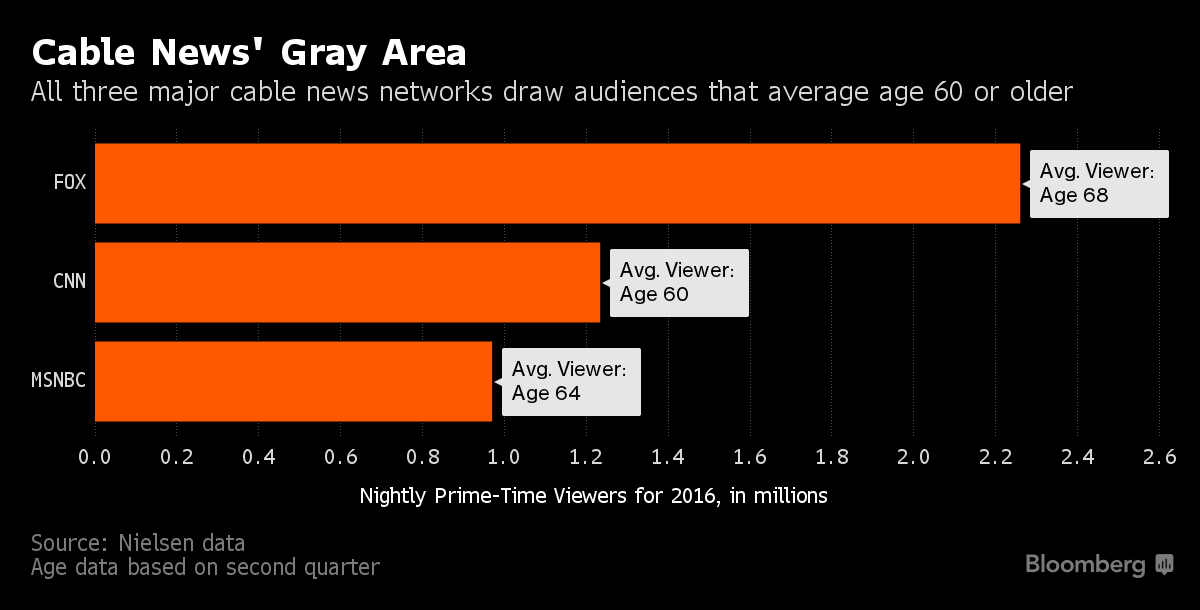 "As you play this out over 10 years, which network would you bet on as having an audience that isn't dying off?" asked Brian Wieser, an analyst at Pivotal Research Group LLC who follows advertising companies like Omnicom Group Inc. and WPP Plc. "CNN in particular has attempted to appeal to a broader audience."
The challenge for Fox News is to lure a younger audience while preserving its appeal to the older, politically conservative viewers who have delivered record profit to 21st Century Fox.
Making Hay
Fox News is enjoying record results because of the presidential race. With frequent appearances by Republican nominee Donald Trump, who engaged in a public feud with prime-time anchor Megyn Kelly, the network will generate about $1.63 billion in operating income this year, according to researcher SNL Kagan. That's about a quarter of 21st Century Fox's projected profit. CNN is expected to earn $415.8 million and MSNBC $228.4 million, according to Kagan.
The audience for cable news has also soared. So far this year, according to Nielsen data, Fox News is averaging 2.26 million total viewers a night in prime time, up 29 percent. Time Warner Inc.'s CNN has more than doubled to 1.23 million and Comcast Corp.'s MSNBC is up 77 percent to 970,000. Fox News has been No. 1 among news channels for 14 years.
But when it comes to the younger viewers marketers target and other metrics, Fox's edge narrows. Its lead over CNN in "commercial impressions" among 18-to-49-year-olds is much smaller, according to Wieser, citing a gauge of ad effectiveness. A good chunk of the Fox public is "outside of the core audience demographics for many large advertisers."
"They will have to change at some point," Wieser said. "It's not that their political message changes necessarily, but in terms of appealing to younger audiences, it is probably the case that they would have to evolve over time."
Fox shares have dropped 8.4 percent this year.
Network Reach
With a commanding lead overall, Fox has time. The network is taking steps to keep its programming fresh and widen its appeal. Three shows in particular are doing well in overall ratings and in the 25-to-54 age group that's important for news advertisers.
"The Kelly File," a prime-time staple since 2013, was No. 1 in 25-to-54 in July, according to Nielsen data. Fox News has Kelly under contract until next summer. The network also has winners in "The Five," a daily round table that includes former White House Press Secretary Dana Perino, and "Outnumbered," a show added in 2014.
Fox has also maintained that its engaged, live viewership is important to advertisers and that it's delivering a large audience of older, high-income viewers, in addition to beating the competition in the 25-to-54-year-old age group.
Reach is also an area where Fox is less dominant. In July, 46 percent of TV households watched CNN, while only 39 percent tuned in to Fox News, according to Wieser. That shows CNN appeals to a wider swath of the public. Fox's audience is more loyal and watches longer, he said.
"CNN has done a pretty good job repositioning themselves," said Steve Kalb, director of video investments for Interpublic Group's MullenLowe Mediahub, who buys airtime on cable channels for clients including Miracle-Gro, Patron Tequila and Royal Caribbean Cruises Ltd. With its more centrist political perspective, CNN "feels more like a safe bet for a lot of clients," he said.

In addition to news and talk shows, CNN has invested in documentaries and unscripted programming for slow times, such as the travelogue "Anthony Bourdain: Parts Unknown" and the series about specific decades, like "The Sixties." In the second quarter, CNN said its total-day audience was just 12 percent behind Fox in the 25-to-54 age group
Kalb credits CNN with more inventive programming and said it has done a better job with online offerings, such as the CNN Digital Studios initiative. The network plans to spend $20 million to hire 200 people to work on mobile and video, according to the Wall Street Journal, and has been producing video for Snapchat and Facebook Live.
Fox News is also pushing into digital. It will be part of a live online bundle offered by Hulu next year and is on Sony Corp.'s PlayStation Vue live online TV service. The network used Facebook Live to stream coverage of the presidential debates. Bloomberg LP, the parent company of Bloomberg News, competes with Fox News in providing news and information.
Young Leaders
With Murdoch recently handing the reins of 21st Century Fox to his sons, CEO James, 43, and Executive Co-Chairman Lachlan, 44, analysts expect the network to expand its demographics while trying to sustain profitability and its reputation as a "must buy" for marketers, as ad executive Kalb called it.
"It feels like Fox will, under the guise of some new leadership, try to get a little bit younger, a little bit more relevant," said Kalb. But the network has a "faithful and loyal" audience and "it is going to be very hard for Fox to mess with that model."