PBOC Money-Market Tactic Has Traders Trying to Decode Signal
Bloomberg News
OCBC detects leverage warning as Natixis sees cash management

Central bank met with lenders on liquidity issues, MNI says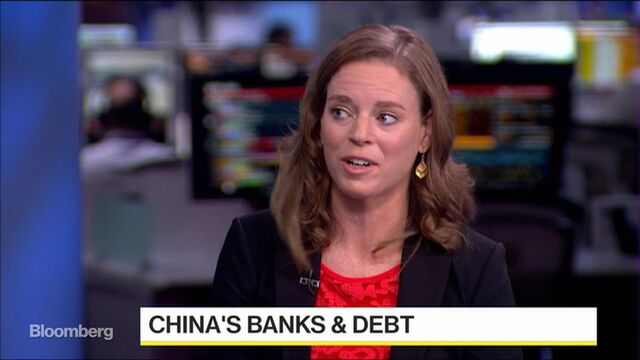 China's central bank watchers have something new to puzzle over.
The People's Bank of China sold 50 billion yuan ($7.5 billion) of 14-day reverse-repurchase agreements on Wednesday, its first offering of anything with a tenor other than seven days since February. Officials are signaling they're ready to curb leverage in the bond market by making it less profitable for investors borrowing to buy 10-year debt, according to Oversea-Chinese Banking Corp. and Haitong Securities Co. For Natixis SA though, the move shouldn't be interpreted as anything other than an effort to build out a short-term yield curve.
The diverging views come after an almost six-month stretch where policy makers managed financial-system liquidity through open-market operations rather than by cutting the benchmark interest rate or by lowering bank reserve requirements. While the monetary authority is trying to tweak how it manages liquidity, it's difficult to understand why the two-week tool was chosen, according to Capital Economics Ltd.
"They're still having difficulty in communicating," said Julian Evans-Pritchard, Capital Economics' Singapore-based China economist. "They lack the awareness of how their actions are perceived by the market. It'd be much more helpful to manage expectations if they clearly state what they are trying to achieve and what the policy framework is."

Reports that the PBOC gauged demand for 14-day reverse repos on Tuesday unsettled the bond and interest-rate swap markets. The benchmark 10-year sovereign yield climbed four basis points, the most since February, to 2.72 percent. Swaps posted their biggest one-day increase in more than a year on concern the decision to use 14-day reverse repos reduces the chances of broader monetary easing.
The monetary authority continued its cash injections on Thursday, offering 140 billion yuan of seven-day repos and 80 billion yuan of 14-day contracts, according to two traders at primary dealers required to bid at the auctions. Accounting for maturing repos, the operations added a net 170 billion yuan to the banking system.
Market News International Thursday said the PBOC is trying to add long-term money to the market, adding that it considers maturities of more than 14 days if needed. The central bank met with lenders on liquidity management and is trying to reduce maturity mismatches, MNI said, without citing any sources. The PBOC didn't immediately reply to a faxed request for comment.
Lack of Clarity
The lack of an official explanation from China's central bank is at odds with a recent drive to boost market communication. The PBOC has issued a relative flurry of statements this month, saying on Aug. 15 that investors mustn't focus too much on short-term concerns. Days earlier, after data showed the weakest increase in credit in two years, PBOC research bureau chief economist Ma Jun said the slump hasn't hurt growth.
"Investors are waiting for further signals from the central bank," said Shen Bifan, an analyst at First Capital Securities Co.'s fixed-income department. "It seems the PBOC wants to warn investors not to get excessively leveraged, but on the other hand, it wants to keep the measure moderate to avoid panicking the market."
Haven Hunt
Chinese sovereign bonds have benefited from a worldwide haven hunt. The Asian nation's yields, which are high compared with negative rates in Japan and Germany, prompted global funds to boost their holdings of local debt by the most in two years in June. The 10-year yield fell to 2.64 percent on Aug. 15, the lowest since Bloomberg started compiling ChinaBond data 10 years ago. The yield was at 2.73 percent Wednesday.
"The PBOC's action will bring adjustment pressures on China's bond market in the near term," Harrison Hu, China economist at Royal Bank of Scotland Plc, wrote in a note on Wednesday. "A highly leveraged financial system is highly sensitive to even minor policy moves."
The central bank has tightened its hold on money rates this year, increasing the frequency of its open-market operations to daily from twice weekly, and signaling that the seven-day repurchase rate would be the new benchmark for borrowing costs. The increased attention has helped keep the overnight repo rate in a 43-basis-point range this year, which has in turn made it easier for investors to borrow cash to buy bonds.
Rising Demand
The increased demand for cash can be seen in transactions of overnight repurchase agreements, which climbed to a record 50.4 trillion yuan in July. That compares with an average of 31.8 trillion yuan last year, data compiled by Bloomberg show.
The reintroduction of the 14-day instrument could signal that the PBOC is trying to fine-tune liquidity management, said Iris Pang, senior economist for Greater China at Natixis. It is also an attempt to prepare for the end of the quarter next month, when cash supply may be strained, she added.
Money-market rates rose in general because the PBOC's actions suggest that there are unlikely to be near-term cuts to interest rates or bank reserve requirements, said Frances Cheung, head of rates strategy for Asia ex-Japan at Societe Generale SA.
Bubble Risk
The bond rally has raised concern about a potential asset bubble risk, according to OCBC. China's central bank may want to curb leverage in bonds as funding costs of the 14-day reverse repo is higher than that for the seven-day and overnight reverse repos, said Tommy Xie, an economist at the Singapore-based lender.
Worry that China's authorities are considering clamping down on excessive leverage was fueled by a pledge from the Communist Party's top decision-making body to curb asset bubbles.
"One thing that's holding the PBOC back from communicating with the public is probably that it's not entirely independent," said Capital Economics' Evans-Pritchard. "It doesn't fully control its own policy, which means it's quite difficult for it to promise to do things in a certain way because there'd be pressure from the State Council or other parts of the government."
The benchmark seven-day repo rate fell one basis point to 2.49 percent as of 5:03 p.m. in Shanghai on Thursday, weighted average prices from the National Interbank Funding Center show. The 14-day contract rose 10 basis points to an almost two-month high of 2.89 percent. The one-week rate surged as much as 13 basis points to a five-month high of 2.53 percent on Wednesday.
The cost of one-year interest-rate swaps, the fixed payment to receive the floating seven-day repo rate, was unchanged at 2.53 percent, after surging the most since July 2015 on Tuesday.
In the currency market, the onshore yuan rose 0.08 percent to 6.6559 a dollar, according to China Foreign Exchange Trade System prices. The offshore currency climbed 0.04 percent, while a gauge of dollar strength fell for the first time in five days.
— With assistance by Helen Sun, Tian Chen, and Kyoungwha Kim
Before it's here, it's on the Bloomberg Terminal.
LEARN MORE