Photographer: Krisztian Bocsi/Bloomberg
VW to Restart Production After Ending Six-Day Parts Standoff
By and
Six stalled plants in Germany to ramp up as deliveries resume

Supplier's unprecedented reaction affected 28,000 VW workers
Volkswagen AG negotiated through the night to reach a deal with a rebellious supplier, ending a six-day standoff that halted production of Golf and Passat cars after the parts maker refused to provide seat and transmission components.
Prevent Group will restart deliveries as soon as possible, and Volkswagen's affected factories will gradually return to normal production, the companies said in a joint statement on Tuesday. They declined to release details of the agreement. Volkswagen shares rose 2.2 percent.
Europe's largest automaker halted work at six factories across Germany, affecting nearly 28,000 workers, after two subsidiaries of Sarajevo-based Prevent took the unprecedented step of withholding deliveries of components amid a contract dispute. Volkswagen, accustomed to strong-arming suppliers, got a rare pushback, complicating its efforts to tighten costs and recover from its emissions-cheating scandal.
"I think they have an attitude versus their suppliers which is a little bit too tough," Michael Fuchs, deputy leader of German Chancellor Angela Merkel's Christian Democrat-led parliamentary bloc, said in a Bloomberg Television interview. Volkswagen has to "negotiate properly" with its suppliers.
The Wolfsburg, Germany-based manufacturer has responded to the crisis stemming from the emissions cheating with a far-reaching push to lift sagging sales and profit at its namesake VW brand. According to Prevent, Volkswagen was seeking to pass on the costs of the crisis by squeezing suppliers, and the parts maker was forced to take a stand to secure its survival. Still, the standoff isn't likely to be duplicated by Prevent's peers.
Risking Business
"I don't see this happening again," said Sascha Gommel, an analyst with Commerzbank AG, who had estimated that the production stoppage could cut profit by as much as 70 million euros ($79 million) a week. "You're really risking business."
Volkswagen shares, which have fallen 8.3 percent this year, gained 2.65 euros to 122.70 euros in Frankfurt trading, valuing the company at 63.8 billion euros.
Amid component shortages at assembly lines, Volkswagen had started sending thousands of workers home on Thursday. The shutdown expanded to production of the best-selling Golf on Monday, when the company said it was making arrangements for short-time work, a program that involves the government compensating employees for some of their lost wages. The plan faced resistance from some German politicians, who balked at bearing costs for the dispute.
"It's good that we have an agreement now and hence the clarification of a dispute that was economically damaging and distressing for everyone involved," said Stephan Weil, the prime minister of Volkswagen's home state of Lower Saxony and a member of the carmaker's supervisory board. "This example mustn't serve as a model."
Even with the agreement, Volkswagen could still face aftershocks over the standoff. Bafin, the German financial-market regulator, said it's looking into whether VW was too slow in informing markets about the dispute. The company didn't issue a public statement on the issue until Monday.
Prevent is led by the family of Bosnian businessman Nijaz Hastor, who has sought to bolster his activities in the German auto industry in recent years. With Hastor's sons in control and now seeking to diversify the company, Prevent has adopted a more aggressive business style, according to two people familiar with their plans, who asked not to be named discussing internal matters.
Ready to Work
Meanwhile, Prevent has continued to make acquisitions, including the two subsidiaries that fought with VW, namely the Car Trim seat-component division and ES Automobilguss transmission-parts unit. The order canceled by VW involved a 500 million-euro deal with Car Trim that was scheduled to start next year, a person familiar with the matter said last week.
Watch Next: The Long Rise and Rapid Fall of Volkswagen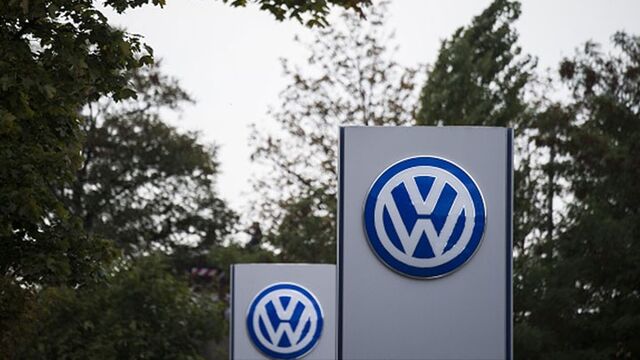 Volkswagen, which employs more than 600,000 people worldwide, had key facilities, including its main plant in Wolfsburg, laid low by Prevent as a result of the carmaker's just-in-time manufacturing system. Under the widely used production strategy, components are delivered straight to the assembly line rather than stored in warehouses, cutting costs but leaving little buffer in the event of a disruption. Such incidences, however, are rare since suppliers rely on auto manufacturers for their livelihood.
The carmaker's workers "welcome the agreement and the resumption of production," Volkswagen's works council said in a statement. "Our colleagues want to build cars and not sit at home with nothing to do."
Before it's here, it's on the Bloomberg Terminal.
LEARN MORE