In Market Going Nowhere, Traders Renew Love Affair With Momentum
by
Momentum ETF has absorbed $400 million since the start of June

S&P 500 churning near an all-time high after two down days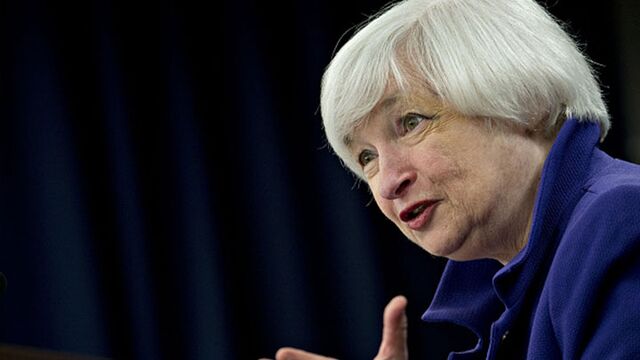 What do you do when volatility dissipates and the stock market gets mired in its sleepiest stretch since before the internet bubble? Buy momentum, of course.
An exchange-traded fund tracking shares that have risen the most in recent months has absorbed more than $400 million since the start of June, the most ever for a period of that length. The ETF has gained 4.7 percent over the 12 weeks, outpacing more popular smart-beta strategies like low-volatility and value, as well as the S&P 500. The benchmark gauge added 0.2 percent to 2,186.90 at 4 p.m. in New York, after briefly topping its record closing high of 2,190.15 reached on Aug. 15.
The flows are another example of bullish positioning in a market that, while up almost 20 percent since reaching lows in February, lately has refused to budge. They join bears covering short bets and hedge funds speculating on declines in the CBOE Volatility Index in the ranks of investors wagering against an imminent collapse in equity prices.
"The move into momentum is affirmation that investors see an upward trend," said John Manley, who helps oversee about $233 billion as chief equity strategist for Wells Fargo Funds Management in New York. "Market fears are evaporating. Investors that have sat on the sideline are finally gaining confidence and deciding they want to participate."

The iShares MSCI USA Momentum Factor ETF, which tracks the biggest stock-market gainers of the last six to 12 months, was little changed on Tuesday. The Dow Jones Industrial Average rose 17.88 points, or 0.1 percent, to 18,547.30, erasing most of an early 102-point jump. The Nasdaq Composite Index increased 0.3 percent, and also briefly exceeded its closing record. About 5.6 billion shares traded hands on U.S. exchanges, 18 percent below the three-month average.
Among stocks in the iShares ETF, none have rallied more than Newmont Mining Corp. and Nvidia Corp. over the past 12 weeks. Already having surged more than 40 percent in 2016 through May, both companies added at least 33 percent over the period. AT&T Inc., which has the biggest weighting in the iShares ETF, has climbed 4.3 percent since the end of May, bringing its year-to-date increase to almost 19 percent.
The S&P 500 has barely moved in the past four sessions while options traders have pushed the average level of the VIX to around 12 through yesterday, making this the calmest August since 1994. Outside of a jump that took equities to an all-time high on Aug. 15, the benchmark index has wobbled around the 2,180 level for two weeks. The measure trades at 18.6 times estimated earnings, at its highest levels in more than a decade.
Investors will get more policy information on Friday when Federal Reserve Chair Janet Yellen gives a speech at the annual monetary policy symposium in Jackson Hole, Wyoming. In recent days, Fed Vice Chairman Stanley Fisher signaled that a 2016 rate hike is still under consideration, saying the U.S. economy is close to meeting the central bank's goals. San Francisco Fed President John Williams said a hike in September is "in play," while New York's William Dudley warned that investors are underestimating the likelihood of a rate increase.
Fed Watching
"The earnings season is largely over and the only thing we can look at is Fed-speak, which is antagonizing," Brian Frank, portfolio manager at Key Biscayne, Florida-based Frank Capital Partners LLC, said by phone. "We're in the most aggressive dip-buying market I've ever seen. I wouldn't even call the last two days a dip, but any little tiny decline seems to be an excuse to buy and talk about the Fed."
Traders are pricing in a 28 percent chance the central bank will raise its benchmark rate in September. December is now the first month showing at least even odds of an increase, from June about two weeks ago. A report today showed purchases of new homes unexpectedly jumped in July to the highest level in almost nine years, led by soaring demand in the nation's south and adding to signs of persistent housing-market strength.
Among shares moving, Monsanto Co. led gains in raw materials as it's said to be closer to a merger with Bayer AG. Chipmakers extended their recent rally to boost the technology group, and Best Buy Co. surged almost 20 percent, the most in more than 15 years, after better-than-estimated quarterly results. J.M. Smucker Co. posted the steepest drop since 2012 after the company cut its annual sales forecast.
HP Inc. and Tiffany & Co. are among the few remaining companies to report this week. Among S&P 500 members that have announced results so far, 79 percent have topped profit projections, while 56 percent beat sales estimates. Analysts predict net income fell 2.3 percent in the second quarter, and that it will slide 0.9 percent in the current period. That would mark a sixth consecutive quarterly drop, the longest since the financial crisis.
Before it's here, it's on the Bloomberg Terminal.
LEARN MORE