Investors Shrug at Tesla's Upgrade
By
Shares give back half of gain after company reveals plan

Musk sees electric car becoming world's fastest as 'milestone'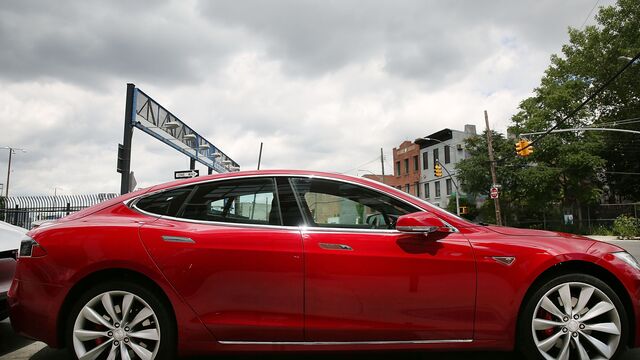 Tesla Motors Inc.'s announcement that a new version of its Model S sedan will be the fastest car in the world is sure to impress sports car buffs, but investors shrugged when they saw the details.
Shares rose as much as 2.5 percent Tuesday after Chief Executive Officer Elon Musk said on Twitter that he had product news coming. Once he said that Tesla was simply wringing more speed and range out of its Model S sedan and Model X sport utility vehicle, the stock receded and finished up 0.9 percent at $224.84.

"It's amazing how much attention Elon gets by Tweeting," said Ben Kallo, an analyst with R.W. Baird & Co. "This is really an incremental advancement in technology and cost."
Still, Musk was quick to brag that his Model S P100D will be the fastest new car produced on an assembly line. The car will have a 100 kilowatt-hour battery, which with Ludicrous mode can go from a standstill to 60 miles per hour in 2.5 seconds, compared with 2.8 seconds for the current P90D Ludicrous version. It will also go 315 miles (506 kilometers) on a single charge. The P100D Ludicrous upgrade costs $10,000 for customers who have ordered a P90D Ludicrous but haven't taken delivery, or $20,000 for owners who already have that vehicle type.
"It's quite a milestone that the fastest car in the world will be electric," Musk said.
Tesla, which announced the new versions in a call Tuesday, has been gradually upgrading the power delivered by its batteries and the performance of its cars for several years. Musk first unveiled models with Ludicrous mode last year.
The heavier Model X P100D with Ludicrous mode can get to 60 mph in 2.9 seconds and go 289 miles on a single charge, Musk said.