U.K. Banks to Lose EU Access After Brexit, Merkel Ally Says
by and
EU passporting rules 'not negotiable,' CDU lawmaker says

Negotiating new framework won't be easy game, Fuchs says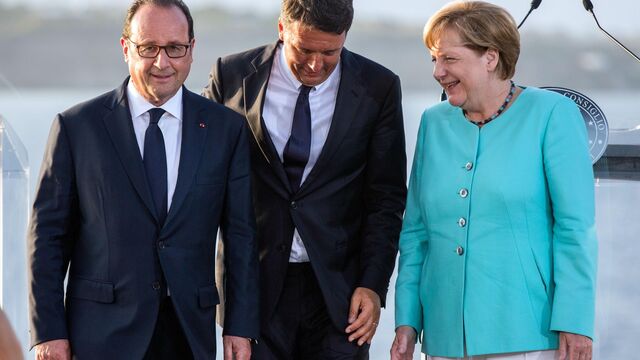 The European Union won't bend its rules to preserve access for the City of London once Britain leaves the bloc, according to German lawmaker Michael Fuchs, an ally of Chancellor Angela Merkel.
The legal and regulatory framework for so-called passporting is geared to banks based in an EU country, and negotiating any new arrangement promises to be "very difficult," Fuchs said in a Bloomberg interview on Tuesday. Passporting rules, which allow a bank incorporated in any EU member state to sell its products and services throughout the $19 trillion integrated economy, are "not negotiable," he said.
That's a rebuff to lobbies such as the British Bankers' Association, which says its goal remains to keep "the current full level of access to the EU market." While U.K. Prime Minister Theresa May has said she will fight for the City to retain its passporting rights, bankers and lawyers say she faces an uphill battle trying to win concessions from EU partners.
"If you're member of a club you have certain benefits, but if you're out, you will not have the benefits any more," said Fuchs, a deputy leader of Merkel's caucus in the German parliament. "It's not going to be an easy game."
Avoiding isolation for U.K.-based banks is one of May's biggest challenges after Britons voted on June 23 to end more than four decades of EU membership. With future relations between the EU and the U.K. in limbo for now, the other member countries are seeking to chart the way forward.
Merkel's Travels
Merkel is criss-crossing Europe this week to canvass opinion before leaders of all 28 EU countries except Britain meet for a post-Brexit summit in Bratislava on Sept. 16. Fresh from talks with French President Francois Hollande and Italian Prime Minister Matteo Renzi, she travels to Estonia on Wednesday, followed by stops in Prague and Warsaw and meetings outside Berlin with eight other EU government chiefs.
"We respect Britain's decision but naturally also want to make it clear that the other 27 are working for a prosperous, safe Europe," Merkel said Monday after meeting Renzi and Hollande aboard an Italian aircraft carrier to show unity in the face of Europe's crises. "We need results," she said.
May has held off starting the clock on Britain's exit from the EU to allow her government time to form a team and to prepare negotiating positions. In Germany, the Foreign Ministry is pulling together a list of likely topics for the EU's Brexit talks, a government official said last week.
The German official, who asked not to be identified discussing government deliberations, expressed frustration with a lack of signals from London and said the U.K. government may be underestimating the complexity of the talks that lie ahead.
Legal Roadblock
Fuchs said talks on access for U.K. banks will "require a lot of effort." As an example of the difficulties, he cited a legal bar to letting London-based banks manage initial public offerings in the EU after Brexit. While the passporting agreement also includes non-EU countries Iceland, Liechtenstein and Norway, Fuchs said banks operating in the EU must be subject to EU supervision and can't be run out of London when the U.K. is no longer a member.
"I really think this is something that's not negotiable, the so-called banking passport," he said.
Sign up to receive the Brexit Bulletin, a daily briefing on the biggest news related to Britain's departure from the EU.
Big investment banks with their European headquarters in London may move more quickly than their public messages of patience imply. They will start the process of moving jobs from the U.K. within weeks of the government triggering Brexit, according to people briefed on the plans being drawn up by four of the biggest firms.
Before it's here, it's on the Bloomberg Terminal.
LEARN MORE