Five Hotels With Incredible Pool Toys
Because pool paraphernalia is as good a reason to choose a hotel as any.
By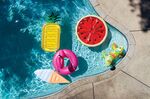 SURFJACK HOTEL & SWIM CLUB
Honolulu
Everything about this hotel, located in the heart of Waikiki Beach, screams "Hawaii!": the pineapple float, the obscure Hawaiian soul that DJs spin on-site, and the Kualoa Ranch oysters and the Kuahiwi Ranch burger that Honolulu-born chef Ed Kenney serves up. surfjack.com
THE COSTA RICA MARRIOTT HOTEL
San José
The kitschy ice-cream-cone float is one of the more modern touches at this colonial-style hotel, built on a working coffee plantation. After you're done in the pool, take one of the many coffee-related classes, which will teach you to make latte foam art or just a better drip coffee. marriott.com
W RETREAT & SPA
Vieques, Puerto Rico
The two-level infinity pool at this modern Caribbean resort offers a view of the Atlantic Ocean, including nearby Culebra Island and the mainland of Puerto Rico in the distance. Enjoy it all from the back of a giant pink flamingo while indigenous Paso Fino horses saunter by. wvieques.com
HILTON ORLANDO BONNET CREEK
Florida
Board your gecko (or monkey or frog or lion) for a float down the hotel's lazy, winding river. Nestled in lush, subtropical greenery, it twists under bridges, waterfalls, and other fountain sprays in a route that ends—appropriately—at the pool. hiltonbonnetcreek.com
HILTON WEST PALM BEACH
Florida
Tired of lounging in one of the Palm Deck's orange-and-white cabanas? Slip into the pool and onto a superhuge watermelon slice. (This float, which seems designed for multiple passengers, has been a hit on Instagram, says general manager John Parkinson.) If you're looking for food you can eat rather than float on, Tiger Woods's former chef, Matthew Byrne, heads the restaurants at the hotel. Don't miss the triple-decker ice cream sandwich. hiltonwestpalmbeach.com
Before it's here, it's on the Bloomberg Terminal.
LEARN MORE