Brexit Bulletin: Merkel Moves On
European leaders try to forge ahead without Britain, while Brexit faces another legal challenge.
By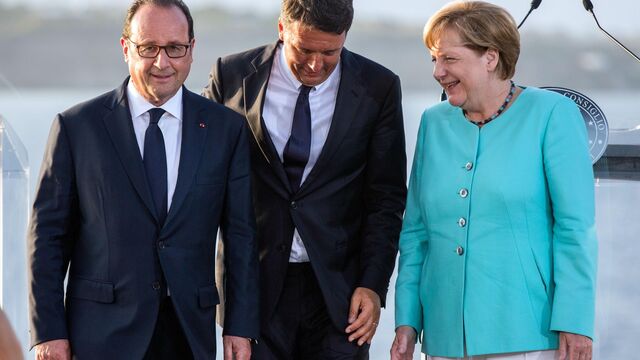 Sign up to receive the Brexit Bulletin in your inbox.
The EU is moving on from Brexit. That was the message from the leaders of Germany, France and Italy yesterday evening as they met aboard an Italian aircraft-carrier.
"We respect Britain's decision but naturally also want to make it clear that the other 27 are working for a prosperous, safe Europe," said German Chancellor Angela Merkel. "We need results."
With future EU-U.K. relations in limbo, continental leaders are trying to move toward an initial vision of the post-Brexit bloc. Merkel will talk to another 13 leaders between Wednesday and Saturday before in-depth talks among all EU members except Britain in Bratislava on Sept. 16.
"Many thought Europe was finished after Brexit—it wasn't," Italian Prime Minister Matteo Renzi said. "We think that Europe can be a solution to problems, while populists think that Europe is the cause of all problems."
The press conference at sea followed the military theme introduced by Czech Prime Minister Bohuslav Sobotka, who said the EU will need a "common European army" in the long term.
See You in Court
Another legal challenge to Brexit has been filed, this time from members of the Northern Ireland Assembly, who want a judicial review of the U.K.'s plan to leave. 
This claim is different to the others, according to the lawyers, as it deals with the "unique requirements of Northern Ireland constitutional law and statute," Bloomberg's Patrick Gower reports.  

We reported in early August on the risks posed by the first batch of legal claims, which aim to force the government to consult Parliament before triggering the formal exit process. 
The government didn't comment on the latest case. But Prime Minister Theresa May said last month—when she used her first official trip as premier to go to Scotland—that she wouldn't start formal exit talks until she had established a "U.K. approach and objectives for negotiations." If Brexit leads to a hard border between the U.K. and Europe, that frontier would run between Northern Ireland and the Republic of Ireland. 

Scotland, meanwhile, has put a number on the cost of Brexit. Tax receipts may fall by £3.7 billion a year–equivalent to a budget cut of 13 percent–by 2030, the Scottish government said on Tuesday, with Scottish GDP possibly heading £11.2 billion ($14.8 billion) a year lower in 2030 than it would have been without Brexit.
Manufacturers Get Brexit Boost
U.K. manufacturers are starting to see the benefits of the pound's decline, with export orders posting their best performance in two years, Bloomberg's Thomas Seal reports.
The Confederation of British Industry in London said the rise was a "tentative sign that sterling's depreciation is starting to filter through." But firms in the survey also expect to increase prices at the fastest pace since early 2015, possibly a response to rising import costs. 
Persimmon, the U.K. homebuilder, also gave a rosy picture of the post-Brexit economy. Demand has held up since the Brexit vote as the company, which focuses on affordable properties for first-time buyers, has seen no change in buyer behavior, CEO Jeff Fairburn told Bloomberg TV. 
On the Markets
The dollar halted a two-day advance while emerging markets rebounded as investors reassessed prospects for higher U.S. interest rates. European stocks rose with U.S. equity-index futures, while oil extended its retreat from a seven-week high.

And Finally...
Finns are about to get a tax cut and they have British euro-skeptics to thank for it. Faced with weak global growth and uncertainty created by Brexit, Finnish Prime Minister Juha Sipila is going to bring forward income tax cuts that weren't due until after March 2017, writes Bloomberg's Raine Tiessalo. 
For more on Brexit follow Bloomberg on Twitter, Facebook and Instagram, and see our full coverage at Bloomberg.com