pursuits
Brazil Real Pessimism Fading as Rousseff Impeachment Vote Nears
By , , and
Central bank intervenes at reduced $500 million daily pace

Latin American currencies decline before Yellen speech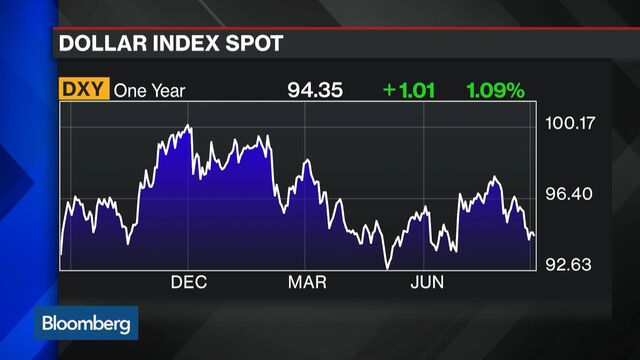 Analysts are growing more optimistic about the Brazilian real even as they predict declines.
Strategists surveyed by Bloomberg have bolstered their estimates for the real against the dollar more than for any other currency in the world over the past two months, and now say it will end this year 5 percent lower at 3.4 per dollar. The top forecaster for Brazil sees the currency rising as much as 15 percent over the next few months to as strong as 2.8 per dollar.
The real is the world's best performing currency this year on wagers a new government will bolster growth, shore up the budget and restore confidence in Latin America's largest economy as President Dilma Rousseff faces an impeachment trial expected to begin this week and wrap up this month. The currency slipped Tuesday on speculation the Federal Reserve is getting closer to raising interest rates, denting the appeal of government bonds in Brazil, where the benchmark interest rate is more than 28 times higher than in the U.S.
Cristiano Oliveira, the chief economist at Banco Fibra SA in Sao Paulo and the top-ranked forecaster in the central bank's weekly survey, says the real may gain to 2.8 to 2.9 per dollar in the next few months as investors seek out Brazil's higher interest rates and bet Rousseff will lose her mandate and be replaced by Acting President Michel Temer.
"We will see a surplus of dollars in the market in the second half" of the year if Temer moves ahead with fiscal adjustments, Oliveira said in an interview.
Barclays Plc expects the real to close the year at 3.65 per dollar. Two months ago it was expecting 4.5 per dollar. UBS AG has moved to 3.6 from 4.3 per dollar. Morgan Stanley expects 3.15 per dollar, compared with 3.75 per dollar two months ago.
The currency slid 1.1 percent to 3.2351 per dollar on Tuesday in Sao Paulo. An index of 20 emerging-market currencies fell 0.4 percent, while Latin American currencies weakened 1 percent against the dollar.
Investors who borrow in dollars and buy reais as they take advantage of the country's higher interest rates are waiting for Fed Chair Janet Yellen's remarks Aug. 26, when she may give insight on whether the U.S. economy is growing fast enough for rates to rise this year. Data Tuesday showed new home sales unexpectedly rose to a nine-month high last month.
"It's all macro to me this week," said Sacha Tihanyi, a senior emerging-market strategist at TD Securities in New York who says he's in the process of revising his forecasts for the currency.
The real advanced earlier Tuesday as Temer delayed pay increases for public workers as part of his efforts to shore up the budget. Optimism was tempered when the Senate's economic affairs committee approved wage increases for public defense lawyers.
"This has fueled some worries about the fiscal framework," said Camila Abdelmalack, the chief economist at CM Capital Markets in Sao Paulo. She predicts the real will end the year at 3.25 per dollar.
Investors also turned more pessimistic after a planned appearance by the central bank President Ilan Goldfajn in the Senate was canceled. Investors were expecting to hear from Goldfajn after the monetary authority scaled back its intervention efforts to weaken the real. Brazil's policy makers offered 10,000 of reverse foreign-exchange swaps, equivalent to buying $500 million in the futures markets, for the third straight session. The central bank had been offering $750 million of the contracts daily since Aug. 11, after the real reached a one-year high.
Brazilian swap rates on the contract maturing in January 2018, a gauge of expectations for interest-rate moves, dropped 0.02 percentage point to 12.69 percent.
— With assistance by Marisa Castellani
Before it's here, it's on the Bloomberg Terminal.
LEARN MORE