$115 Billion Danish Fund Warns New Correlations May Turn Ugly
by
ATP CEO says 'very uncomfortable' about tandem moves reversing

'Single biggest concern' is central banks pumping returns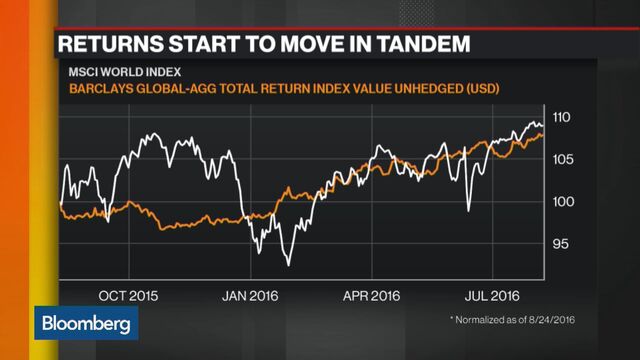 Denmark's biggest pension fund, which manages about $115 billion in assets, says it's growing increasingly worried about how markets will react when crisis-era correlations across asset classes start to reverse.
"All our risk analysts are trying to peel the onion to understand if this is all correlated or if there's something we can find that isn't correlated," Carsten Stendevad, the chief executive officer of ATP, said in an interview in Copenhagen. "The truth is, yes, we can find pockets of things that are slightly less correlated. But the question is when this kind of moving-in-tandem will be very painful, when things move in the other direction."

One of the many side effects of excessive monetary stimulus has been that investors need to operate in a market in which diversification is harder to achieve. Signs of price distortions are everywhere, with the economic text books offering little help in understanding how today's central bank policies will shape the future.
"It's better to make money off fundamentals rather than from central bank policies," Stendevad said. "The central bank activity that has pushed great returns for so long really is worrying. It is our single biggest concern."
The fund has adjusted its investment approach in order to better reflect the underlying risk. In its return-seeking portfolio, ATP has changed the way risk is measured. Rather than allocating each investment into one of five risk classes, it now decomposes each investment into four risk factors: inflation, interest rates, equities and a bucket labeled "other."
"Looking at the past couple of years, most asset classes have moved in tandem and the first six months of this year were no different," Stendevad said. "On the way up, such tandem moves are nice but they make us very uncomfortable about the future where the trend could reverse."
Like all investors, ATP is girding for the day when central banks finally start to emerge from their crisis policies. "None of us knows how it will unfold," Stendevad said. "Nobody's tried it before."
"It's a fairly surreal experience to be a pension fund CEO with liabilities 100 years out that we have to discount at 40 basis points. It's hedged, so it's all good. But what we're spending a lot of time on is what kind of world we'll see in 10-15 years."
Before it's here, it's on the Bloomberg Terminal.
LEARN MORE