Vanke Wants to Talk to Parties Involved in Battle for Control
Bloomberg News
Company hopes for agreement as uncertainty poses challenges

First-half net income rises 10% on year to 5.35 billion yuan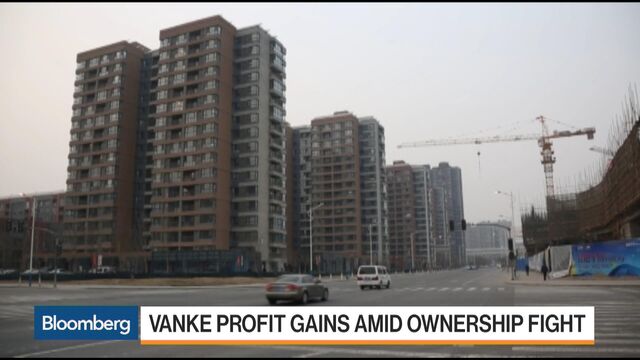 China Vanke Co., the developer at the center of a battle for control, said it wants to communicate with the parties involved and hopes to reach an agreement over its shareholding soon.
Board Secretary Zhu Xu warned of challenges ahead as the protracted tussle creates uncertainty at a briefing in the southern Chinese city of Shenzhen on Monday. The comments came a day after the company reported a 10 percent increase in first-half profit as a recovery in its home market boosted sales. Zhu also reiterated that S&P Global Ratings and Fitch Ratings may adjust Vanke's credit ratings in future due to the ownership issue.
The ownership dispute has prompted some banks to halt lending and spurred employees to resign at a double rate than a year earlier, putting Vanke in a "difficult situation," Zhu said. "We hope all holders would come together for Vanke's long-term future."
Vanke has cautioned about the negative fallout from the shareholder fight that has been going on since the end of last year when Baoneng Group emerged as the developer's biggest shareholder, prompting an outcry from Vanke's management. In its earnings statement to the Shenzhen stock exchange Sunday, Vanke said uncertainty over its stake issues has affected operations, with partners in 31 of its projects having asked for changes of terms, suspensions or possible terminations because of the ongoing situation.
The shares traded in Hong Kong rose 0.3 percent to HK$20.30 as of 11:47 a.m. local time, while the yuan-denominated A shares jumped 1.3 percent to 24.92 yuan on the Shenzhen stock exchange.
Stability Concerns
Net income at the nation's largest residential developer climbed to 5.35 billion yuan ($801 million) in the six months ended June 30 from 4.85 billion yuan a year earlier, the company said in a filing to the Shenzhen stock exchange on Sunday. The profit figure missed an average estimate of 5.65 billion yuan from three analysts compiled by Bloomberg.
Revenue grew 49 percent to 74.8 billion yuan based on Chinese accounting standards. That figure was 70.7 billion yuan using international standards, a second release to the Hong Kong stock exchange said.
"Vanke management stability remains a concern for us," John Lam, an analyst at Morgan Stanley in Hong Kong, wrote in an Aug. 4 note. "Recent shareholding disputes have started to affect company operations, as suggested by the decline in July contracted sales."
The company's management is under "mounting" pressure, as the ownership tussle prompted banks and rating companies to "seriously" review Vanke's credit risks, while projects and contracts are at risk of termination, President Yu Liang said in a shareholder meeting in June. 
Raising Stakes
The battle for control has attracted at least three strategic shareholders after Baoneng, a little-known Chinese conglomerate, displaced China Resources Co. as the developer's biggest stakeholder. Rival builder China Evergrande Group, controlled by billionaire Hui Ka Yan, has been been increasing its stake in Vanke as has closely held conglomerate Anbang Insurance Group Co. Evergrande has amassed a stake of about 6.8 percent, according to an Aug. 15 filing.
Zhu said at the briefing on Monday that Evergrande didn't disclose its intention to raise it stake in Vanke.
No Consensus
To stave off Baoneng's unwelcome bid, Vanke proposed a $6.9 billion stock sale to Shenzhen Metro Group as part of a restructuring that would make the southern Chinese city's train operator Vanke's biggest shareholder. The proposal hasn't reached consensus, Vanke said in an Aug. 16 filing. Vanke's restructuring bid faces almost-certain failure in its current form because it is opposed by Baoneng and China Resources, its two biggest shareholders.
The company said Sunday there is "no consensus yet" on the stock sale proposal. "The company is engaged in negotiation, discussion and improvement with relevant parties and hopes to push forward consensus as soon as possible," it said in the statement.
The next board meeting can only be held after each party involved reaches consensus, Zhu said Monday, responding to the timeline of the restructuring proposal.
"Vanke has been negotiating with the parties involved in the proposal, and hopefully a consensus can be reached as soon as possible," Zhu said, citing the benefits of the current share-sale plan. 
Apart from the current proposal, Vanke is still in negotiation with a potential counterparty, with whom it signed a non-legal binding letter of intent for cooperation in December, it said in the Aug. 16 filing, without naming the firm.
Gross profit margin, a gauge of profitability, fell 3.49 percentage points to 17.55 percent by June 30 from 21.04 percent a year earlier for the main property development business, based on Chinese accounting standards. The company cited projects in the cities of Changsha, Hangzhou, Wuxi, Shenyang and Chongqing for the drop.