U.K. Urged to Boost Infrastructure Spending to Stem Brexit Slump
by
RBS chairman says Bank of England is running out of options

Britain facing potential slowdown after vote to leave the EU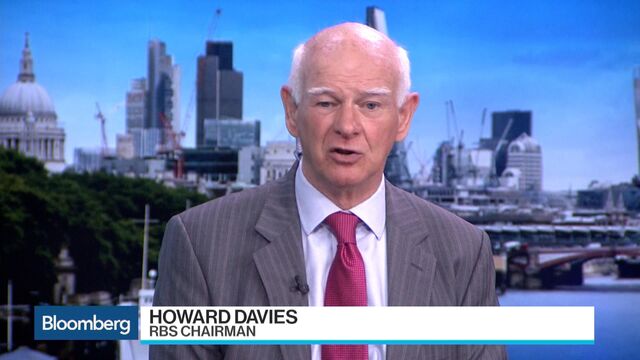 Britain's biggest banks are urging Prime Minister Theresa May to increase spending on infrastructure projects to stave off a Brexit-induced slump, as the nation's central bank runs out of options to stimulate the economy.
The government needs to "compliment the activity of the Bank of England by some expansionist policy on infrastructure spending," Howard Davies, chairman of taxpayer-owned Royal Bank of Scotland Group Plc, said in an interview with Francine Lacqua and Tom Keene on Bloomberg Television Monday. "Supposing we do face a bit of a recession, what will the central bank do? You're not sure that if you do run into trouble that the cavalry can ride over the hill and rescue you because they don't seem to have any ammunition left."
May has indicated her government is prepared to ease the pace of fiscal austerity amid signs the decision to quit the European Union is propelling the economy toward its first contraction since 2009. BOE Governor Mark Carney unleashed a stimulus package this month, including the first interest-rate cut in seven years. The benchmark rate is now just 0.25 percent, leaving limited room for further reductions.
Good Sense
Davies, who previously advised former Prime Minister David Cameron to expand London's Heathrow airport, said it would make "a lot of sense" for Chancellor of the Exchequer Philip Hammond to unveil a package of infrastructure investment in his Autumn Statement later this year. While it's "difficult in present, relatively flat economic conditions," the government should also consider hiking taxes to cut the budget deficit, he added.
His comments echo Lloyds Banking Group Plc Chief Executive Officer Antonio Horta-Osorio, who has called for extra government spending in the wake of the Brexit vote.
"This country has under-invested for years," Horta-Osorio said last month. "We can now borrow money almost at zero. So if we target this money to appropriate projects that can raise the productivity for the country, this should be a serious option to be considered."
Before it's here, it's on the Bloomberg Terminal.
LEARN MORE