markets
Top Australian Steelmaker Soars to Five-Year High on Profit Jump
Bloomberg News
BlueScope Steel doubles profit on cost cuts, higher revenue

Steel prices 'will come off a bit,' CEO Paul O'Malley says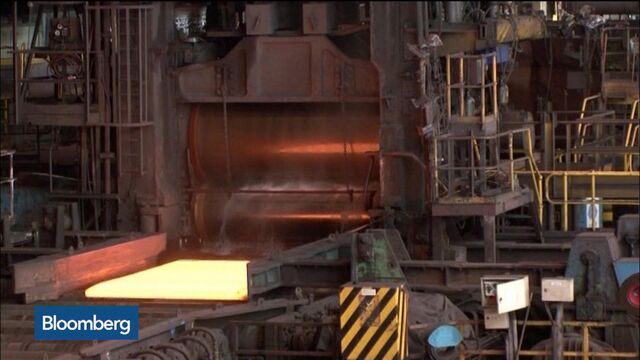 BlueScope Steel Ltd., Australia's top steel producer, surged to a five-year high after the company doubled profits, helped by cost cuts and higher revenues.
While prices and margins are poised to drop a bit, they'll still be better on average than levels seen during the past 12 months, Chief Executive Officer Paul O'Malley said in an interview with Bloomberg Television on Monday.
"I still think that margins will be at higher levels going forward than we saw in 2016, simply because 2016 was unsustainable," he said, referring to the company's fiscal year ended June 30. "They're at pretty good levels just at the moment. We think they'll come off a bit but 2017 will still be better than 2016 from a price and margin perspective."
BlueScope's shares jumped to their highest intraday level since April 2011, surging as much as 8.5 percent, after the company posted a 119 percent jump in underlying net profit for the 2016 financial year to A$293 million ($222 million). BlueScope slashed costs and fed expanding demand for its products in Asia, it said. Total revenue climbed 7 percent to A$9.2 billion.
Steelmakers worldwide are enjoying better times as the market rebounds in China, which makes half of global supply. The price of benchmark hot rolled coil exported from China is up 49 percent this year to $395 a metric ton after rallying as much as 81 percent, according to data from Beijing Antaike Information Development Co. But shipments are still expanding, feeding a glut that's forced plants to shut and spurred trade curbs from the U.S. to India.
The rebound doesn't signal an end to the woes in the global industry, O'Malley said. "There is still too much steel supply in the world so further restructuring is required," he said. The U.S. "does anti-dumping on steroids," O'Malley said, citing tough import tariffs as the reason for expanding spreads between world prices and the U.S. market.
BlueScope's shares were up 4.1 percent at A$8.59 in Sydney.
— With assistance by Martin Ritchie
Before it's here, it's on the Bloomberg Terminal.
LEARN MORE