Trump, Seeking Broader Support, Calls for Clinton Special Prosecutor
With new campaign leadership, the Republican is trying out a number of ways to close the polling gap.
By , , and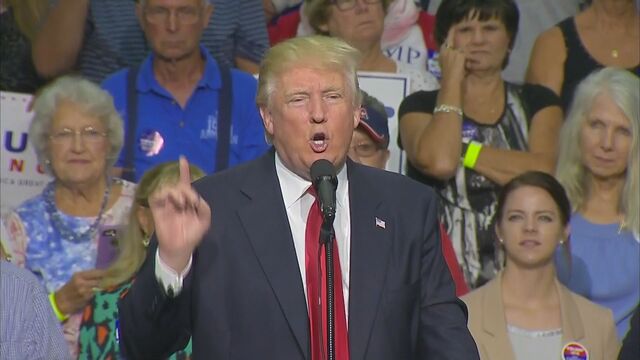 Republican Donald Trump called Monday for the appointment of a special prosecutor to investigate Democratic presidential rival Hillary Clinton's "e-mail crimes" stemming from her tenure as secretary of state. 
"After the FBI and Department of Justice whitewash of the Clinton e-mail crimes, they certainly cannot be trusted to quickly or impartially investigate Hillary Clinton's crimes," Trump said at a campaign rally in Akron, Ohio. 
Trump's speech focused on Clinton's use of a private e-mail server and address, as well as what he called the "pay-to-play" actions of the Clinton Foundation, both of which, Trump said, "disgraced one of the most important departments of government."
Clinton on Monday faced a new round of questions about potential conflicts of interest between her family's foundation and her work at the State Department, as well as the prospect that more of her private e-mails will be released this fall.
The new line of attack by Trump came as his campaign opened its first week under new leadership trying out a number of ways to broaden its support and begin to close the polling gap with Clinton.
In the five days since pollster Kellyanne Conway and Breitbart News co-founder Stephen Bannon assumed control of the Republican's campaign from Paul Manafort, Trump debuted a direct pitch to minority communities, specifically African-Americans, and tried softening his rhetoric—if not his policies—on how he'd handle undocumented immigrants.
Trump was slated to deliver a policy speech on immigration this week, but those plans have been postponed, according to a campaign official.
In a further break from the campaign style that propelled him to victory in the Republican primary, Trump, 70, recently expressed regret for unspecified comments he has made that "may have caused personal pain." He has also shifted to reading most of his speeches from teleprompters at public rallies, and allowed journalists, whom he has spent months criticizing, to attend portions of private meetings. 
The latest attempts to instill discipline and order in the previously freewheeling campaign come amid the second major staff shake-up of the general election. After seeing his role diminished on Aug. 15, campaign chairman Manafort was gone by Aug. 19, when he resigned following revelations about his previous political consulting work for a Russian-backed leader in Ukraine.
Trump by then had already promoted Conway to campaign manager and hired Bannon as his campaign's chief executive. Conway said Sunday that Republican National Committee communications director and chief strategist Sean Spicer would also be increasing his work with the Trump campaign.
But there remained significant doubts that the campaign makeover—as well as Trump's ability to stay focused and avoid inflicting further wounds on himself—would hold long enough to close the gap with Clinton seen in many polls of voters nationwide and in battleground states. 
Over the past few months, Trump has failed to live up to assurances made by surrogates like Manafort and Republican National Committee Chairman Reince Priebus that the candidate was on the verge of becoming more disciplined, such as when he engaged in protracted fight with the a Gold Star family following the Democratic National Convention. 
Trump in a statement Monday said the Clinton family foundation should be shut down amid scrutiny of its donation practices—a message he and Conway reinforced in TV appearances. Yet on TV and Twitter, Trump also detoured to insult a pair of cable-news hosts and to call Clinton aide Huma Abedin's husband, Anthony Weiner, a "pervert sleaze."
Questions also remain on the specifics of Trump's policy proposals, particularly with what he would do with the estimated 11 million immigrants who are in the U.S. illegally. A central reason for his success with many Republican voters, Trump's pledge to deport undocumented immigrants, itself came into question this weekend.
When asked whether his immigration policies would include a deportation force, Conway said Sunday on CNN's State of the Union that it was "to be determined."
"What he supports is to make sure that we enforce the law, that we are respectful of those Americans who are looking for well-paying jobs, and that we are fair and humane for those who live among us in this country," she said.
The renewed focus comes amid the campaign's nascent outreach to Latinos and blacks, and the seeming recognition that he may not be able to win the presidency without significant numbers of those voters. 
What Trump said at a Hispanic roundtable in New York on Saturday "differed very little from what he has said publicly," Conway said, adding that Trump also focused on the economic themes that he has made core to his pitch to voters and that he says resonates across demographic lines.
The Clinton campaign seized on the issue. It believes "the RNC official in the room, the campaign's statement after the meeting and the candidate himself that Donald Trump's immigration plan remains the same as it's always been: tear apart families and deport 16 million people from the United States," John Podesta, chairman of Clinton's campaign, said in a statement Sunday. 
Trump said Monday on Fox News that he's "not flip-flopping" on immigration. He's working with people in the Hispanic community to come up with an immigration solution that is "a very fair but firm answer," he said.
Trump is "challenging the Democratic Party" on its record for minority communities, Conway said Sunday on ABC's This Week With George Stephanopoulos, picking up on a theme Trump used at rallies on Friday and Saturday. 
"He's saying, look, 'How in the world can we abide a 58 percent unemployment rate among African American youth?'" she said. "How can we stand over a million more African-Americans in poverty since 2009?"
Conway said she was "very moved" by a comment Trump made that blacks are "living in poverty" and don't have anything to lose in voting for him.
"He is trying to tell Americans that we can do better," she said, while Clinton may take black voters "for granted." Clinton's campaign on Saturday said Trump showed he's "out of touch" with black Americans by "waiting the entire community as living in poverty with no jobs."
While not all polls examine Hispanics' or blacks' voting preferences in detail, those that have suggest major problems for Trump.
Nationwide, just 14 percent of Hispanics said they planned on voting for him, according to a poll conducted in July by the Wall Street Journal, which also reported that 82 percent viewed him unfavorably. In 2012, then-Republican nominee Mitt Romney received nearly twice the support in exit polls, winning 27 percent of the Hispanic vote.
In swing states the picture is more mixed for Trump. In Florida, where Romney won 39 percent of the Hispanic vote, Trump is also getting 39 percent of the demographic, according to a CBS News poll of the state conducted Aug. 10-12. In Colorado, Trump's comments about immigrants combined with a rising Hispanic population "seem to have put the state out of his reach," a staffer for the Quinnipiac University Poll said Aug. 17 in a statement announcing poll results that put Clinton up 8 percentage points.
Among black voters in Ohio, meanwhile, just 3 percent are supporting Trump, with Clinton receiving support from an overwhelming 91 percent, according to a CBS News poll conducted Aug. 17-19. Romney won 4 percent of black voters in the Buckeye State in 2012, running against Barack Obama, the first black U.S. president. 
—With assistance from John Hughes.
Before it's here, it's on the Bloomberg Terminal.
LEARN MORE