State Department Told to Speed Latest Clinton E-Mail Review
By
Judge acts on almost 15,000 documents recovered by the FBI

Sept. 22 deadline set to process e-mails; release not set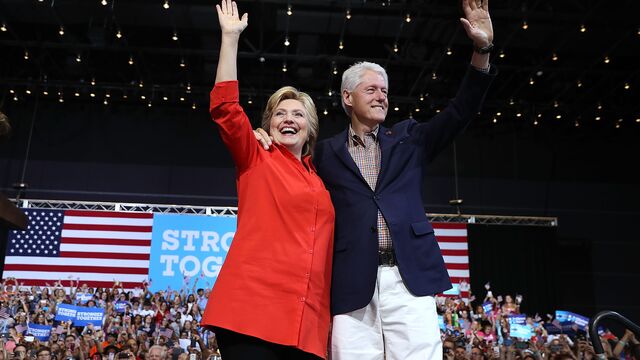 A federal judge has ordered the U.S. State Department to accelerate its review of almost 15,000 previously undisclosed documents recovered by the FBI from private e-mail servers used by Hillary Clinton while she was secretary of state.
Those documents are among tens of thousands of records the State Department is sifting through to cope with the demands of a Freedom of Information Act lawsuit filed by the conservative group Judicial Watch as the presidential race between Democrat Clinton and Republican Donald Trump enters a crucial phase.
U.S. District James Boasberg on Monday ordered the State Department to process that first batch of records by Sept. 22 and report back to him that day. While he didn't set a schedule for their being made public, a Justice Department lawyer proposed a phased release beginning Oct. 14, a rate that raised the ire of Judicial Watch lawyer Lauren Burke.
"What have they been doing for the past four weeks?" she asked Boasberg, complaining that the government will have had the recovered records for 10 weeks before any of them are released.
The slow trickle of disclosures virtually ensures Clinton's private e-mail use during her term as the top U.S. diplomat will hobble her for the 78 days remaining until Election Day. Bloomberg poll results released Aug. 10 show at least 58 percent of likely voters say they are troubled by the issue, which has been a centerpiece of Trump's attacks on her trustworthiness.
FBI Director James Comey said last month that the agency had found what he described as "several thousand work-related e-mails" that weren't among the 30,000 she had turned over from her time as secretary of state.
While Clinton has said her lawyers provided all work-related e-mails and destroyed the remaining personal communications, Comey contradicted that account, saying the Federal Bureau of Investigation recovered documents from several servers that Clinton had used for her private e-mails as well as by scanning the archives of other U.S. officials.
He also said that Clinton's lawyers had searched only the headings at the top of e-mails to find relevant messages, while agents looked at the entire communications. He said the FBI found no evidence that work-related e-mails were intentionally deleted to conceal them.
Justice Department attorney Lisa Olson told Boasberg the State Department review process requires "appraisal" of the public records to determine whether they relate to official business, and a review for responsiveness to the Judicial Watch document demand and whether or not some or all of their content should be deemed exempt from disclosure.
"The State Department has concocted a completely new review program under the Freedom of Information Act that we've never heard before," Judicial Watch President Tom Fitton told reporters after the hearing, adding that his organization wants as many documents as possible made public before election day.
The judge acted in one of several suits filed by Judicial Watch, which on Monday released the latest batch of e-mails that it says showed improper efforts by the State Department to aid donors to the Clinton Foundation. A Clinton campaign spokesman said "Hillary Clinton never took actions as Secretary of State because of donations to the Clinton Foundation."
The case is Judicial Watch Inc. v. U.S. Department of State, 15-cv-687, U.S. District Court, District of Washington. (Washington).
Before it's here, it's on the Bloomberg Terminal.
LEARN MORE