benchmark
Japan Turns to Illegal Foreign Workers as Farmers Age
Number found working illegally nearly triples in three years
By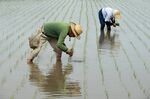 Japan is struggling to keep its farms running as farmers age and young people shun the work. This has opened the door for more foreign workers -- including a growing number found to be working illegally.
The number of Japanese farmers has dropped by about half since 2000, to below 2 million this year, according to the agriculture ministry. About two-thirds of those who remain are 65 years old or older.
This could slow Prime Minister Shinzo Abe's push for a renewal of the sector. Abe sees agriculture as an important driver of economic growth, and has urged farmers to target overseas markets with premium products.



Japan's agricultural exports hit a record in 2015, according to the agriculture ministry, thanks partly to a weaker currency. Abe's government has been looking to the proposed Trans-Pacific Partnership trade deal to expose Japanese farmers to more competition and improve productivity. The pact, which brings together 12 nations including Japan, may be in doubt with the U.S. presidential election campaign fueling protectionist sentiment.
A shortage of farm workers means the rise in exports isn't sustainable, said Takeshi Minami, chief economist at Norinchukin Research Institute, which specializes in agriculture. Younger Japanese simply aren't interested, he said.
"It's easier to be a salaryman," Minami said. "You can't be a farmer unless that's your passion."
One result is the rapid rise in productive farmland being abandoned.

Some farms are tapping cheap foreign labor. Japan generally doesn't accept migrant workers, but many companies use a so-called internship-training program as a back door. About 7,000 foreign workers entered the agriculture sector through this program in 2013 after passing exams at the end of their first year, according to the Ministry of Justice. That is more than double the number in 2007.

Others hire unauthorized foreign workers. Authorities last year caught about 1,700 foreigners working on farms illegally, about triple the number just three years ago, and more than in any other sector, according to the ministry.
There are likely more. About 60,000 foreigners remained in the country without permission as of Jan. 1, according to the government.


(
For more economic analysis, see Benchmark.
)
Before it's here, it's on the Bloomberg Terminal.
LEARN MORE