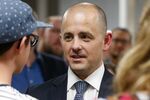 More than half of U.S. adults view Democratic presidential candidate Hillary Clinton unfavorably, and even more so for her Republican rival Donald Trump.
Evan McMullin, the 11-year CIA veteran, ex-Goldman Sachs banking associate and former chief policy director for the House Republicans, this month launched a long-shot, last-ditch effort to win over American voters by offering a third way. The independent candidate, clamoring to get on states' ballots before the November election, sees over-regulation, tax overhauls and government reform as top economic priorities.
While scant on details so far, here's how the Utah native said he'd address a handful of economic issues, in a 20-minute interview by phone:
Poverty
"In a country that's as wealthy as ours, we must do better about it, not helping people just survive in poverty — which is what our policies are designed to do now — but rather helping people lift themselves out of poverty. It's about competitiveness, it's about their thriving, it's about the country's thriving, it's about national security."
McMullin has said he's ''very passionate'' about poverty issues, and recited the statistics to show it, saying it's ''incredible'' that about 15 percent of Americans, almost 50 million, live below the poverty line. He noted that those levels are comparable to the 1960s, when President Lyndon B. Johnson declared a War on Poverty. Census Bureau figures back up his point: 

McMullin said he'd advocate customizable, flexible state solutions over ''one-size-fits-all programs run out of Washington, D.C.,'' in part due to the variance in causes and circumstances of those living in poverty. He said he'd focus especially on "welfare cliffs" — a reference to instances in which those receiving government aid become suddenly ineligible for benefits when they reach a certain income level, therefore disincentivizing job promotions.
Student Debt
"I want to first say that I am empathetic to those situations in many ways, given that I also still have student loans, actually. And even recently, in the past few years, I've paid them down by a significant degree. ... And fortunately I had good opportunities, employment-wise, so I could pay them down. But not everybody is so fortunate. But I felt that pressure and that stress myself."  
Millennials make up the largest generation in the electorate, making young-voter issues attractive subjects for any presidential candidate. Skyrocketing tuition costs have saddled graduates with record levels of student debt, prompting some worry about how even those with college degrees will contribute to an economy that's still healing more than eight years after the last recession.

McMullin's approach to the issue is focused on spurring the economy writ large at a faster pace than 2 percent, which would help the job market. That's easier said than done, given that U.S. GDP has averaged a 1.8 percent pace over the past 15 years.
Trade
"There have been a lot of people who have lost their jobs or there have been downward pressure on their wages as a result of the movement of certain industries and companies and jobs around. But it's not only because of trade, by the way — it's also because of automation and the advancements in technology. ... We need to trade, but we need to make sure that we're again providing the necessary opportunities for the American people."
McMullin sees Trump as ''exploiting real hardship that many Americans are facing'' in his negative talk on trade, and he's not thrilled with either candidate for publicly opposing the Trans-Pacific Partnership, which he sees as an important deal. He acknowledges that tariffs by other countries mean U.S. companies have been held back from competition, but that ''95 percent of the world's consumers are outside of our borders,'' so shutting down trade isn't his answer. In order to mitigate the negative impact of trade deals on American workers, McMullin said he's studying up on apprenticeship programs, the likes of which have shown success in Germany.
Refugees, Immigrants
"This country is as powerful as it is because it has been the best place on earth for someone with a big idea to come develop it. ... It's so important for our economy, for our jobs. It's important for healthcare, for example, that we are innovating in important sectors like that. And it's important also for our national security. We need to be a place where people of all religions, all nationalities, all races — we need to be a place where they want to come to build, to pursue their biggest dreams. I regret and am concerned about Donald Trump's rhetoric."
McMullin in 2001 had a short stint at the United Nations High Commissioner for Refugees, helping to vet and resettle those fleeing the Middle East and Africa. That work helped shape his perspective on the hot-button topic of immigration, for which he taps into his business-friendly, west-coast views rather than the security-laden debate of the two frontrunners for the Oval Office.
McMullin cited statistics showing a ''large percentage'' of Fortune 500 companies and successful U.S.-based startups were founded by immigrants or their children.



Before it's here, it's on the Bloomberg Terminal.
LEARN MORE