Duterte Threatens UN Withdrawal in Philippine Drug War Spat
By and
Philippine leader says campaign against drugs will continue

Foreign secretary Yasay clarifies, says no UN withdrawal plans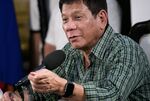 Philippine President Rodrigo Duterte has threatened to withdraw his country from the United Nations amid international scrutiny surrounding the deaths of hundreds of drug suspects since he was sworn into office in June.
"Maybe we'll just have to decide to separate from the United Nations," Duterte said in a two-hour briefing in his home base of Davao in the early hours of Sunday. "If you are this rude," he said, Manila will leave: "Take us out of your organization. You have done nothing anyway." At a briefing on Monday, Foreign Secretary Perfecto Yasay said the Philippines was not leaving the UN, despite its inadequacies, and that Duterte was merely expressing his disappointment with UN officials.
Duterte, 71, the tough-talking former Davao mayor, won a landslide victory by promising a severe crack-down on drug related crime, corruption and vice. But the deaths of hundreds of drug suspects, mainly in shoot-outs with police, has drawn criticism from abroad, including the U.S. State Department and two UN special rapporteurs who have called for a formal investigation into the killings.
Overseas investors pulled a net $72 million from Philippine stocks last week, the first outflow in 13 weeks and the biggest in 11 months. Foreign funds had pumped $1.2 billion into the nation's shares since Duterte won the May election amid optimism he'd accelerate infrastructure development and spur growth. Investors continued to buy Indian, Indonesian and Thai equities, while pulling funds from South Korea and Vietnam.
For an explainer on the Philippines path to prosperity, click here
Duterte has vowed to continue his war on drugs and has lashed out at critics, most notably former Justice Secretary Leila de Lima, who has opened a Senate probe into the killings. The president has promised to publicly shame officials allegedly involved in the illegal narcotics trade, and warned Supreme Court Chief Justice Maria Lourdes Sereno not to create "conflict" after she urged members of the judiciary linked by Duterte to illegal drugs not to surrender without a warrant.

As the Senate hearing got underway in Manila, police figures showed 712 people had died in police anti-drug operations since July 1, including 269 in Manila, and as many as 1067 were killed by unknown assailants. De Lima said 12 people are set to testify about the deaths of 11 others suspected to be involved in the illegal drug trade.
'Particularly Worrisome'
"My concern does not only revolve around the growing tally of killings reported by the Philippine National Police," Senator de Lima said. "What is particularly worrisome is that the campaign against drugs seems to be an excuse for some law enforcers and other elements like vigilantes to commit murder with impunity. I strongly believe: Extrajudicial or extralegal killings, whether perpetrated by the State or by non-state actors must stop."
In defense of Duterte's campaign, Senator Alan Peter Cayetano said that from 2010 to 2015, an average of 35 people were killed daily in various crimes including those perpetrated by drug addicts. Under Duterte, deaths have dropped to 20 a day and many of them are suspected criminals, he said.
Philippine police chief Ronald dela Rosa told the hearing the country had 3.7 million drug users. More than 6,000 anti-drug operations had been conducted nationwide, he said, with over 10,000 dealers or users arrested from July to August and 600,000 people surrendering. "The PNP does not and will never condone vigilante killings," he said.
Unprecedented
While the UN Charter doesn't provide a method for withdrawal, Professor Simon Chesterman, Dean of the Law Faculty at the National University of Singapore, said it was theoretically possible.
"In 1965, Indonesia announced that it was withdrawing from the UN," Chesterman said in an email. "After a change of government later in the year, it reversed its position and resumed its seat. The UN acted as if it had never withdrawn at all."
The U.S., he said, had also periodically threatened to withdraw, notably during the Bush administration, but on each occasion it concluded that being inside the UN was far more beneficial than being outside. "Membership of the UN entails rights as well as responsibilities. If the Philippines actually did withdraw, it would severely complicate its international relations."
Positively Impressed
The Philippine Stock Index is up 15 percent this year, trading near the highest valuations since April 2015 at 19 times expected earnings. That compares with 13.7 for the MSCI Emerging Markets Index. The Philippine index was 0.21 percent higher at 2:19 p.m. local time. The peso was trading 0.34 percent lower against the dollar.
The Philippine economy expanded 7 percent in the second quarter, the fastest in three years and the most among major Asian economies.
"Investors have been positively impressed by Duterte," said Alan Richardson, Hong Kong-based investment manager at Samsung Asset Management. "He will likely receive positive reviews for his first 100 days presidency. Clear and consistent policy implementation should strengthen business and investor confidence and in turn sustain superior economic growth relative to the Asia region."
Soo Hai Lim, investment director at Baring Asset Management in Hong Kong, said that despite the new president's controversial statements, "on balance I think investors probably see the new president in a favorable light, especially with regards to the economy."