Australia's King of Mining Junk Bonds May Become Investment Grade
by
Fortescue poised for investment grade ratings: Deutsche Bank

Producer already meeting ratings criteria on some metrics: CFO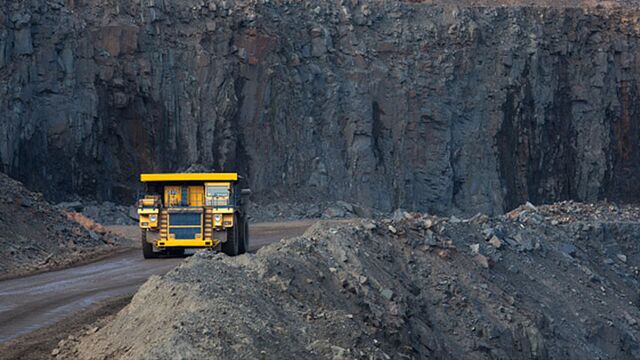 Billionaire Andrew Forrest's Fortescue Metals Group Ltd. was the king of mining junk bonds -- once the industry's biggest seller of high-yield debt. Now it's seen as a candidate to have its ratings boosted to investment-grade status.
The world's No. 4 iron ore exporter has cut debt by about $2.9 billion since July 2015 and is targeting further reductions, boosted by lower production costs and a rally of about 41 percent this year in benchmark prices. Credit assessors could lift its rating to investment grade -- making the miner a so-called rising star -- as soon as mid-2018, according to Deutsche Bank AG. It's currently rated one notch below that by Fitch Ratings, two steps lower by S&P Global Ratings, while Moody's Investors Service has it at the second-highest speculative grade ranking.
"You've seen our credit improve quite significantly over the last 12 months, and you would expect that ratings would follow," Fortescue Chief Financial Officer Stephen Pearce said Monday in an interview after the producer reported full-year profit jumped more than threefold in fiscal 2016. "We are already, on quite a number of metrics, in that investment- grade category. For some others, we are just emerging into the investment-grade category."

Iron ore has rebounded in 2016 following three straight annual declines as China's infrastructure and property sectors have supported demand in the world's second-largest economy. Benchmark prices, which bottomed in December at $38.30 a dry metric ton and are trading over $60 a ton, are likely to move between $55 and $65 a ton over the next 18 to 24 months, before seeing gains, according to Jay Hambro, chairman of producer IRC Ltd.
With iron ore "at $50 a ton and above, this becomes an investment-grade story some time in the next two and a half to three years," Craig Nicol, a Sydney-based credit analyst at Deutsche Bank, said by phone. "That's a complete turnaround from even six months ago, when iron ore was down below $40 at one stage."
Fortescue is rated BB with a negative outlook by S&P and BB+ with a negative outlook by Fitch. Moody's on Tuesday raised the miner's rating to Ba2 with a stable outlook and said further action to reduce debt or a refinancing of 2019 maturities could help support any additional upgrade.

Stronger ratings generally allow borrowers to access funding at a cheaper cost, while achieving an investment-grade score widens the pool of investors whose mandates allow them to hold the securities.
To achieve an investment-grade rating, single-commodity producers like Fortescue must show "a commitment to conservative financial policies and strong balance sheets," Sam Heffernan, a Melbourne-based S&P analyst, said in an e-mailed statement. "This is particularly relevant in periods of market weakness or cyclical downturns, as we're experiencing now." Fitch Ratings declined to comment. Moody's didn't respond to a request for comment on the potential for the producer to win an investment-grade rating.
Refinancing Options
An upgrade to investment-grade status would potentially assist Fortescue as it examines options for debt refinancing, Pearce said. The producer is most likely to consider opportunities after paying down more debt, he said. Net borrowings fell to $5.2 billion as of June 30, Fortescue said in its earnings statement.
The improved outlook has driven a price surge for the dwindling amount of bonds Fortescue still has on issue, pushing yields to the lowest level in two years. The company's April 2022 senior unsecured debt was at 101.75 cents on the dollar, having climbed from as little as 57 as recently as July 2015, while the March 2022 secured notes it priced in April last year are at a record high, according to Trace pricing.
A Bloomberg default risk model that assesses metrics including the share price, debt, interest expenses and cash flow, indicates that the miner should currently be rated at the lowest investment grade.

Shares of Fortescue have surged more than 160 percent this year and are the best performer among Australia's 100 largest companies. It has slashed cash, or C1, production costs by about 65 percent since 2013, boosting its underlying profit margin to 45 percent in the year to June 30, from 29 percent in the previous 12 months.
"We see them as being able to hold C1 costs at these low levels over the medium term," Deutsche Bank's Nicol said. "That's why we think this credit is essentially going to investment grade."
Iron ore's 2016 rally may fizzle as China's winter arrives and limits steel demand and production, according to Morgan Stanley. Over the past 10 years, prices have on average dropped in September, October and November, analysts including Joel Crane wrote in a report last week.
Even with lower iron ore prices, Fortescue could generate more than $2 billion of free cash- flow in the current financial year and use it to pay down debt, adding to the case for a rating upgrade, according to Clarksons Platou Securities Inc.
"Fortescue is on a path to eventually gaining investment-grade status," Jeremy Sussman, a New York-based analyst with Clarksons, who rates the producer's shares as a buy, said in an e-mail. The company "is likely to continue to be a free cash-flow generating machine for the foreseeable future," he said.
Before it's here, it's on the Bloomberg Terminal.
LEARN MORE