Singapore's Lee on Medical Leave After Illness Halted Speech
by
Prime Minister Lee Hsien Loong didn't have stroke, office says

Lee on medical leave until Aug. 29: Prime Minister's Office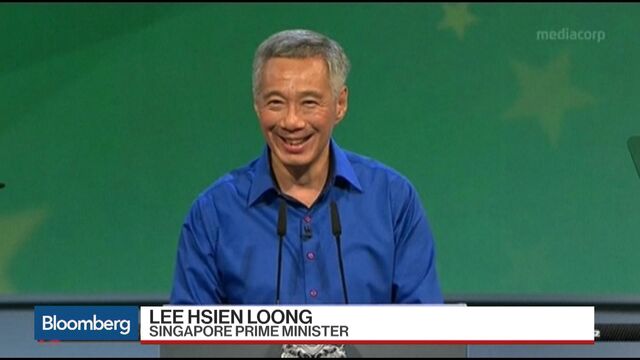 Singapore's Prime Minister Lee Hsien Loong is taking a week-long medical leave after he took ill during a nationally-televised speech on Sunday evening, which was halted for about an hour before he returned to address the importance of succession planning.
Lee, 64, underwent a series of checks at Singapore General Hospital Sunday night and Monday morning after a temporary drop in blood pressure due to prolonged standing, exhaustion, and dehydration led him to abruptly stop his speech at the National Day Rally, according to a statement from the Prime Minister's Office Monday. Doctors have confirmed there were no cardiac abnormalities and no stroke, the office said.
When Lee returned to the podium that same evening, he apologized for giving the crowd a "scare," appeared relaxed and even joked about the situation. He spoke for a further 15 minutes before bringing the speech to an end, announcing the return of Finance Minister Heng Swee Keat to work months after the minister had a stroke.
"I gave everybody a scare," Lee said. "The last time I did this was on the parade square in Safti, and fainted," the former brigadier general said, referring to a national military institute. "I've never had so many doctors look at me all at once."
Lee had been speaking on and off for more than two hours in multiple languages when he physically stumbled. The live broadcast of his main annual National Day rally address was suspended while the prime minister was attended to by a medical team.
The prime minister will be on medical leave this week. "Doctors think I'm OK but advised rest," he said in a post on his verified Twitter account. Deputy Prime Minister Teo Chee Hean will cover Lee's duties in his absence, his office said.
Deputy Prime Minister Tharman Shanmugaratnam said Sunday night Lee was "perfectly normal" and in good shape, and was just fatigued by a recently hectic schedule. "Don't worry too much," Shanmugaratnam told Channel News Asia.
Political Transition
Finance Minister Heng, who took over the finance job from Shanmugaratnam last year and is regarded as a possible successor for Lee, suffered a stroke during a cabinet meeting in May and spent weeks at the hospital. Lee said Sunday that Heng is ready to resume his duties progressively, and will focus on next year's budget as well as longer-term economic strategies. The minister returned to work Monday, the Prime Minister's Office said.
Heng, a former managing director of the Monetary Authority of Singapore, the central bank, previously served as education minister and presented his first budget to Parliament in March. Lee also said he will appoint Lawrence Wong, who is now minister for national development and a member of the central bank's board, as second minister for finance.
Lee underwent robot-assisted keyhole surgery in February last year to treat prostate cancer and was given the all clear in May of that year. The diagnosis came more than two decades after he was treated and cleared of lymphoma. The prime minister, the son of the late Lee Kuan Yew, took over from Goh Chok Tong in 2004.
"It's another poignant reminder of the demands of the office of the Prime Minister," said Eugene Tan, associate professor of law at Singapore Management University who has previously served as a nominated member of the city-state's Parliament. "His schedule has been demanding, including quite a number of trips abroad in recent months and in the next few weeks."
Lee has signaled he won't stay on as prime minister after 70. The People's Action Party, which was founded by the elder Lee, has won every general election since 1959.
The prime minister said the brief scare underlined the importance of securing an orderly political transition to a new crop of leaders after the next election, due by early 2021. "Soon after the next general election my successor must be ready to take over," he said at the speech. "What just happened makes it even more important that I talk about it now."
Before it's here, it's on the Bloomberg Terminal.
LEARN MORE