Old Mutual Goes Bullish on Pound as Post-Brexit Data Surprise
By and
Fund enters long-pound trade seeing 'confusion in Fed'

U.K. July inflation, retail sales beat analysts' expectations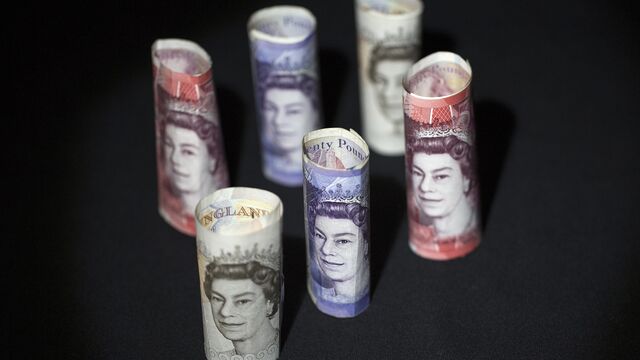 The world's worst-performing major currency of 2016 is starting to win some friends.
Old Mutual Asset Managers Plc., which oversees 327 billion pounds ($427 billion), said it turned bullish on the pound after U.K. economic data signaled the country was resilient in the wake of the June vote to leave the European Union. Sterling bulls were immediately rewarded with the biggest weekly gain versus the dollar in more than a month.

Doubts about the speed at which U.S. interest rates will rise, which emerged after San Francisco Federal Reserve President John Williams said the policy of targeting low inflation no longer makes sense, was another trigger for the change, said Mark Nash, London-based head of global bonds at Old Mutual.
Minutes of the Fed's latest policy meeting showed officials were split on whether a rate increase was needed in the near future, putting the dollar under pressure and benefiting the pound.
Sterling climbed versus the majority of its 31 major counterparts this week, having slid against all of them between Dec. 31 and Aug. 12. Buyers piled in after July inflation and jobless claims reports beat forecasts, showing that, in the short term at least, the U.K. is shrugging off concern that Brexit would cause an economic slowdown.
"We are bullish sterling at least in the near term because the market has priced a lot of bad news and the data this week surprised on the upside -- which suggested post-Brexit economy might not be as bad as feared," said Nash. "Confusion in the Fed also helps to see a weaker dollar down the line."
The pound advanced 1 percent this week to $1.3047 as of 5:17 p.m. London time on Friday, the biggest gain since July 15 and the first advance this month. Sterling weakened 0.4 percent to 86.78 pence per euro.
Still, by the end of the week investors got a reminder that sterling remains vulnerable to abrupt changes in sentiment as the country prepares to start implementing its divorce from the EU. The currency slid the most in two weeks on Friday after Prime Minister Theresa May was said to be leaning toward the first part of 2017 as the best moment to trigger Article 50, which would mark the start of two years of negotiations.
Nash spoke before the report on the U.K.'s Brexit deliberations.