Yen's World-Beating Surge to 100 Has Traders in Buy-on-Dip Mode
By and
Dollar will lack trend until Fed keeps raising rates: Shinkin

Options show traders remain bullish on Japanese currency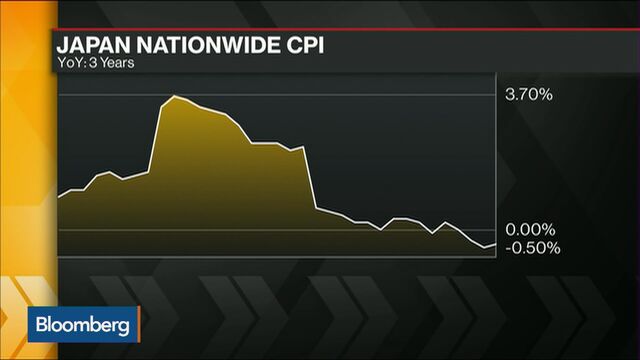 Any lull in the yen's rally past 100 per dollar is being seen as a buying opportunity for Japanese investors who say the developed world's strongest currency this year will stay supported until the Federal Reserve resumes raising interest rates.
The yen touched a seven-week high of 99.54 on Aug. 16 only to end the day at 100.31 amid speculation its strength would add pressure on the Bank of Japan and the government to help stem the advance. On Thursday, the currency rallied to 99.65 before retreating back to as low as 100.50. It was at 100.41 as of 1:15 p.m. in Tokyo on Friday.
"The best strategy is to sell the dollar when it rebounds against the yen," said Jun Kato, a senior fund manager in Tokyo at Shinkin Asset Management. "A dollar-buying trend will not emerge until U.S. interest rates rise consistently on the back of a robust economy. I wouldn't be surprised if the yen, while undergoing position adjustments, zigzagged toward 95 over a three-month horizon."

The yen has strengthened 20 percent this year, the best performance among Group-of-10 currencies. The BOJ last month disappointed investors by leaving two key policy tools -- bond purchases and the negative interest rates -- unchanged. That sentiment was compounded after details of a 28 trillion yen ($279 billion) fiscal spending package released on Aug. 2 failed to ignite optimism that Prime Minister Shinzo Abe can revive the world's third-biggest economy.
Dollar Ceiling
While a drop in the dollar past 100 yen may cause some Japanese investors to buy the U.S. currency, downward revisions to corporate exchange rate projections this year could put a cap on the greenback at the level, said Shinsuke Sato, head of the currency trading group at Sumitomo Mitsui Banking Corp. in Tokyo.
"There is risk in the coming month or so for the dollar to fall below 99 and drop 2 to 3 yen more toward 96 level," Sato said. "A sense of achievement will then likely prevail to eventually bring dollar-yen in a range centering on 100 toward year-end."
Options suggest that traders expect the yen to resume its advance. The premium for one-month options to buy the yen versus the dollar, over the cost of contracts to sell, was 1.9 percentage points on Friday, according to risk-reversal prices compiled by Bloomberg. Speculators increased their net yen bullish positions to their highest in five weeks last week.
Short-term investors have been buying yen, but those with a longer outlook are unlikely to join them, said Toshihiko Sakai, the Tokyo-based chief manager of foreign-exchange and financial products trading at Mitsubishi UFJ Trust & Banking.
No Rush
"The environment doesn't warrant aggressive dollar buying, but its downside seems limited," Sakai said. "Real money investors have no reason to hastily jump on the wagon and thus are unlikely to follow the yen appreciation trend. Speculators who sold have to buy back."  
A drop in the dollar below 99 yen could trigger stop-loss orders, causing a short-term acceleration in its slide, said Akira Moroga, manager of currency products at Aozora Bank Ltd. in Tokyo. Wariness over recent remarks from the Japanese authorities seems to have prompted very short-term trading, he said.
Vice Finance Minister for International Affairs Masatsugu Asakawa said Thursday that the government will act appropriately if there are excessive currency moves.
"The only reason to buy dollars right now is for short-covering sparked, for instance, by Asakawa's comments," Shinkin's Kato said. "A good FX trader repeats buying on the dip after a plunge and selling when markets recover from the decline and stabilize."