With Yard Signs Elusive From Trump Campaign, Supporters Buy Their Own
With the Republican presidential nominee trailing in the polls, some of his swing-state backers complain his campaign isn't letting them help his cause.
By and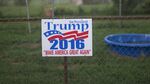 Donald Trump supporters are spending their own cash to buy yard signs and bumper stickers because there's a shortage of free campaign merchandise in their local areas, including in key swing states the Republican presidential nominee must win.
At a time when Trump has fallen behind in swing-state polls, and his campaign has been slow to organize its ground game operation, he needs to seize every opportunity he can and effectively harness the energy of those ready and willing to promote him, Republican activists said. 
Florida resident Ernest Loyer went on a hunt for "Veterans for Trump" yard signs and ended up buying them on cafepress.com, which sells them for $24.99 each.
"They weren't cheap, but high quality. And no proceeds go to Vets," Loyer said in a message on Facebook.
The Sunshine State is a crucial battleground for Trump, one where he trails Democrat Hillary Clinton by 9 points, according to a Monmouth University poll released Tuesday. The problem Trump supporters face in obtaining materials like signs and bumper stickers is happening in other important states too, an indicator of his campaign's missed opportunities and struggles with its ground game, Republicans said. 
In Pennsylvania, seen as a must-win for Trump, state Senator Scott Wagner found that the presidential campaign wasn't providing signs in his district in York County, an area described as "a sweet spot for Trump's key white working class demographic" by the news outlet City & State Pennsylvania.

"I'm going to purchase 20,000 Trump lawn signs. Anyone who wants a Trump sign in my district is going to get one," Wagner told his fellow delegates at the Republican national convention in Cleveland last month, the news outlet reported.
A month later, Wagner is still nudging the Trump campaign, he told Bloomberg Politics. Trump's aggregate polling deficit has risen to 11 points in Pennsylvania, according to an NBC/Wall Street Journal survey released this week. 
Senior Trump campaign adviser Tana Goertz said Thursday she hadn't heard about the problem with people having to buy their own Trump signs, but wants to get it fixed.
"Mr. Trump would never want any veteran spending his or her own money—or any voter—to show support for his own candidacy," Goertz said. "If there's anything I can do, I will. I will send yard signs to any state."  
Virginia-based conservative activist Jim Hoeft said local Republican Party units and activists have to pay for bumper stickers and signs, which he said wasn't the case with the presidential campaigns of Mitt Romney, John McCain, or George W. Bush. And as a result, local party outfits often don't stock them, and supporters must buy them through Trump's website.
"One would think that as you are approaching Labor Day that this material would be available. You'd think this is free publicity for a national candidate," Hoeft said. "Why aren't they working to make sure this material is distributed? One would think that if you're a Republican presidential candidate, Virginia would be an important place for you to spend your money. And I'm not seeing it."
An e-mail dated Aug. 15 from the Chesapeake Republican Party in Virginia said activists would have to pay $15 for 100 bumper stickers and $30 for an order of 100 signs plus 100 bumper stickers. Four-by-eight signs could not be shipped, the e-mail added, and could only be picked up from Harrisonburg, a 100-mile trek for some.
A Facebook post on Aug. 5 by the Republican Party of Craig County told supporters that "Trump campaign materials are not likely to arrive any time soon," and urged them to send money to help.
"I just feel that at this stage in the game, if you're one of two people on a national ticket, everyone really ought to be towing your horse in the same direction. And I don't get that vibe," Hoeft said.
Wagner, the Pennsylvania Republican, said he has requested signs from the campaign, "but I have not received them." He added, "Personally I think they're so overwhelmed."
Without ready access, Trump supporters have gotten creative.
Florida Trump supporter Mark Carbone shelled out money to purchase a stockpile of Trump signs that he plants in his lawn. "My yard signs are taken at least once every two weeks," said Carbone, who owns a medical device company in Orlando. "I keep buying more."
Loyer posted a public Facebook request seeking signs, and was told by a member of  the Veterans for Trump Coalition that one option was to go to "vets-for-Trump.com," which had a link to "Vets for Trump" signs. Signs sized 24-inch by 36-inch signs cost $50.40 each. The metal frames are extra.
Wagner is pricing out the cost of buying them from an outside vendor, and thinks he can get a bulk rate of $3 each. He has heard a GOP victory office is opening soon in York, and he hopes Team Trump provides free merchandise at that location, he said. 
As a businessman who works in garbage, trucking, and logistics, Wagner said he wishes Trump had put him in charge of sign printing and distribution.
"I would've gotten signs nationwide to everybody," he said.
Goertz said Team Trump is building serious ground operations in Florida, Pennsylvania, Virginia and other battlegrounds. Goertz, an Iowa resident, added that it's not an issue there, and that Trump senior staff in Iowa ordered 35,000 signs for free distribution. 
"I know how important a yard sign to an Iowa voter," she said. "Fly your Trump flag—put a sign in your lawn, place a bumper sticker on your car—that's worth $1,000 in advertising to me." 
Before it's here, it's on the Bloomberg Terminal.
LEARN MORE