Turkey's Simsek Warns Growth to Fall Short of Government Target
By
Deputy PM says expansion won't reach the projected 4.5%

Downside risk to growth increased after failed coup: Simsek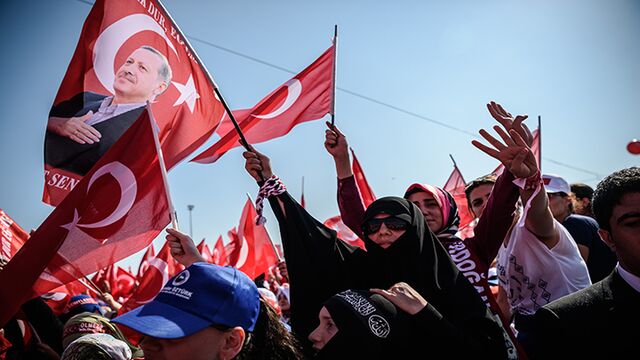 Turkey's economy will expand less than the government projected this year as the fallout from an attempted coup weighs on activity and the outlook for global growth deteriorates, Deputy Prime Minister Mehmet Simsek said.
Conditions have changed since the Turkish government announced its medium-term economic program in January, which targeted 4.5 percent expansion this year, Simsek said in an interview with state-run TRT. Downside risks in the third quarter have increased after an attempt by a faction of the military to overthrow the government left more than 200 dead and sent markets tumbling.
The warning comes as economists also scale back their estimates for growth for the $720 billion dollar economy this year, and as Fitch Ratings prepares to release its review of Turkey's credit rating on Friday. The government has removed almost 80,000 government employees from duty as it targets alleged followers of Fethullah Gulen, the Pennsylvania-based cleric President Recep Tayyip Erdogan blames for the foiled military uprising.
The median estimate of economists in the central bank's monthly survey of expectations published on Thursday forecast Turkey's economy would grow 3.5 percent in 2016, down from 3.7 percent in July. It grew 4.8 percent in the first quarter of this year and has beaten estimates since the fourth quarter of 2014, mostly due to rising household consumption, according to data compiled by Bloomberg.
Fitch holds Turkey's credit rating at BBB-, the lowest investment grade, with a stable outlook. Whether the attempted coup in Turkey translates into sovereign-ratings pressure "will depend on the extent to which the government's reaction deepens political divisions and weakens institutional independence," it said last month.