Trump's Slide Leaves Republicans Anxious About Holding Control of Congress
The Republican nominee's third major campaign shakeup this week did little to assuage concerns among strategists.
By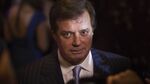 A campaign that Republican leaders have been praying will soften its rhetoric is now led by Stephen K. Bannon, the chief of the scorched-earth Breitbart News. A candidate who bragged during the primary about having no need for pollsters now has one, Kellyanne Conway, as campaign manager. And campaign chairman Paul Manafort, a Washington insider who worked to repair and strengthen ties with Republican leaders, is out.