Odds of a Fed Rate Hike This Year Fall Back Below 50%
By and
U.S. sovereign debt having best start to any year since 2011

Measure of volatility is close to the lowest level since 2014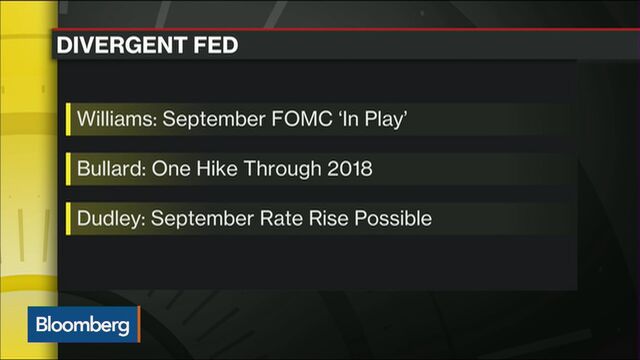 Federal Reserve officials have gone out of their way this week to stress the market is underestimating the odds of an interest-rate increase this year -- and yet the probability of such a move has fallen back below 50 percent.
The view policy makers will be on hold for a long time isn't "consistent" with what the central bank is saying, San Francisco Fed's John Williams said Thursday. New York's William Dudley said on Tuesday the market is underestimating the likelihood of increase. Investors have shrugged off these comments with Treasuries holding onto their best year-to-date performance since 2011. A measure of volatility is close to the lowest since 2014.

The U.S. two-year note yield, among the maturities most sensitive to the outlook for Fed policy, was little changed this week at 0.72 percent as of 6:25 a.m. in New York on Friday, according to Bloomberg Bond Trader data. The price of the 0.75 percent security due July 2018 is 100 2/32. The benchmark 10-year note yielded 1.54 percent.
"The message from the Fed has been conflicting and often not very clear," said Chris Chapman, a trader at Manulife Asset Management (Europe) Ltd. "So, it seems when the hawks talk up the possibility of a hike, the market discounts it as just trying to get more priced in to give themselves the option to hike rather than actually being interested in hiking. That said, I still think the market might be underpricing the chance of a rate increase this year."
The probability of a U.S. rate increase by year-end is 47 percent, according to data compiled by Bloomberg based on fed fund futures. The measure climbed to 51 percent on Tuesday before dropping back the following day. The chances of a move at the next meeting on Sept. 20-21 are just 20 percent.

While recent Fed rhetoric has been hawkish, minutes released Wednesday of the July policy meeting showed officials were split on whether an interest-rate increase was needed in the near future.
"I think the market assessment of the Fed's interest-rate path is a correct one," said Daniel Lenz, market strategist at DZ Bank AG in Frankfurt. The "Fed comments were mixed, and the minutes pointed to the fact that the picture in the labor market is still uncertain. Inflationary pressure remains low."
Watch Next: Higgins: Data Looks Robust Enough for a Fed Hike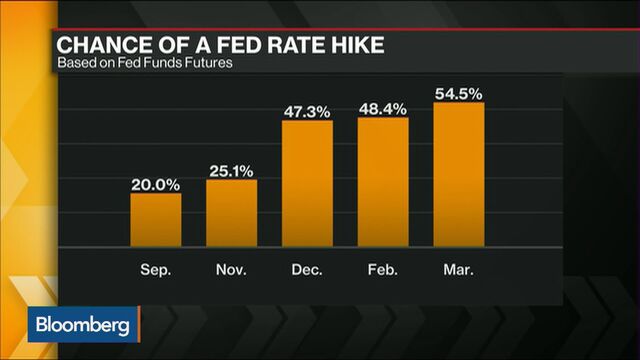 The Bloomberg U.S. Treasury Bond Index has risen 5.3 percent in 2016, the best start to any year since it advanced more than 7 percent in the same period in 2011.
— With assistance by James Mayger
Before it's here, it's on the Bloomberg Terminal.
LEARN MORE