Some of Hedge Funds' Favorite Stocks Are Finally Starting to Beat the Market
Persistence is paying off.
By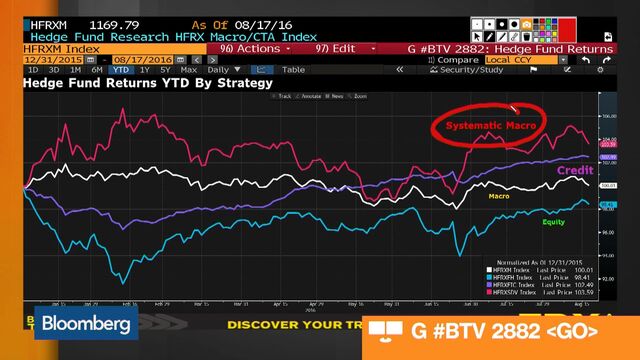 Hedge fund long bets have snapped a streak of underperformance versus the wider index over the past few weeks, according to Goldman Sachs Group Inc., which issues a regular check-up of the industry. 

"During the last six weeks our Hedge Fund VIP basket of popular long positions has led the S&P 500 by 470 basis points, ending the basket's record 1500 bps stretch of underperformance since August 2015," the team led by Ben Snider said in the note, which was based on an analysis of more than 800 funds with $1.8 trillion in gross equity positions.

The remarkable new strategy behind this shift? Sticking to their guns. Rather than chase trends, "the newest filings show that hedge funds remained committed to their sector preferences, adding to exposures in cyclicals like info tech while increasing underweights in defensive sectors like utilities and consumer staples. This commitment was rewarded as cyclical sectors outperformed defensives in early 3Q," the analysts said.

Bets on information technology and consumer discretionary stocks have paid off, as a lower weighting for utilities that contributed to hedge funds' underperformance in the first half of the year proved an advantage in recent weeks. 

That's not to say that hedge funds didn't change their positions. The Goldman note details which stocks hedge funds are bullish about as well as those that they believe are more likely to fall, and the last few weeks have seen some equities migrate from one category to the other. 
Names like McDonalds Corp., Home Depot Inc. and Pfizer Inc. were removed from the "VIP Basket" and added to the "VIP Short Basket."

Other names whose popularity was downgraded include Berkshire Hathaway Inc., Schlumberger Limited, and Wells Fargo & Co. Here's a full look at the changes from the note:


The average hedge fund has returned just three percent this year compared with more than twice that for the S&P 500, Goldman said. That means that despite these recent gains they're lagging the index for the eighth year in a row.
Before it's here, it's on the Bloomberg Terminal.
LEARN MORE