Sean Stewart Jurors Were Hung Up on 'What Did He Get Out of It?'
By
Former Perella Weinberg banker convicted of insider trading

Jurors deliberated for five days before guilty verdict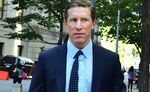 For much of five days of deliberations, a jury that ultimately convicted former Perella Weinberg Partners LP managing director Sean Stewart of insider trading was stuck on one important question.
What did he get out of it?
The jurors, eight women and four men, weren't asking why a young, Yale-educated Wall Street investment banker would risk his career to help his father make $150,000 over four years, though they did wonder about that, two members of the panel said. Instead, they had to determine whether Stewart expected to get money or some other sort of benefit in return for tipping off his father.
That's become a higher hurdle in insider-trading cases since a New York appeals court raised the bar for prosecutors seeking a conviction. Stewart's was the first insider case tried by Manhattan federal prosecutors since the 2014 ruling -- commonly referred to as "Newman."
A San Francisco appeals court disagreed with Newman, saying prosecutors don't need to prove the tipper got a concrete benefit in cases involving close family relationships. The Supreme Court, which had declined to hear an appeal of Newman, is set to consider the California decision in its next term, which begins in October.
Wedding Payment
In the Stewart case, prosecutors claimed Sean's father, Bob, used money from the illegal trading to help Sean pay for his 2011 wedding. Sean's lawyers argued the money wasn't a benefit. It's what dads do for sons, they said, presenting evidence to show Bob paid similar expenses for Sean's younger brother Ryan, who also married in 2011.
The question initially divided jurors and was a focus of their deliberations, according to the two panel members, even though neither the prosecutors or Sean's lawyers drew much attention to the issue in their closing arguments.
"We read it a hundred times," juror Elaine Goldberg said in a phone interview, referring to the judge's direction on the benefit question.
The panel members said in interviews following the verdict that they weren't sure whether prosecutors proved Sean received something of value in exchange for his tips.
"What was he getting out of it?" jury forewoman Barbara Bernstein of Manhattan said, restating the question on the jurors' minds.
Healthcare Mergers
Prosecutors claimed Sean gave Bob information on five health-care mergers that he learned while working for JPMorgan Chase & Co. and, later, at Perella Weinberg.
Sean testified in his own defense, claiming his father betrayed him by trading on information he had picked up during informal family chats. The jury didn't buy it.
"He's good-looking, he's smart, he's what every parent wants to have in a son," said Goldberg. "There were just too many contradictions in his story."
Bernstein said she has a family member in the financial industry and that she'd never heard him drop references to deals or companies in family conversations, as Stewart claimed he did.
Red Flag
The jury also spent time determining whether Sean knew about all of his father's trades or purposely avoided knowing. And some considered that the story about Bob picking up information on the sly might have been true for trades that occurred before an inquiry from the Financial Industry Regulatory Authority definitively flagged the issue for Sean.
It wasn't until the end of the fifth day of deliberations that jurors agreed: What Sean got was a benefit and was guilty on all nine counts. But they decided to sleep on it first. The next morning they filed into the jury box, most looking away from Sean. Bernstein announced their verdict.
The ruling might have provided some relief for Manhattan U.S. Attorney Preet Bharara, who had said the New York appeals court decision could lead to "a potential bonanza" for the friends and family of corporate insiders to trade on confidential information without fear of prosecution.
"It's a hurdle for prosecutors," Carrie Cohen, a former federal prosecutor in Manhattan who's a partner with the firm Morrison & Foerster LLP, said of the New York appeals ruling. "But they're continuing to pursue insider-trading cases."
Since the 2014 decision, Bharara charged 15 people with insider trading, including Sean and Bob Stewart. Bob pleaded guilty and was given probation.
The case is U.S. v. Stewart, 15-cr-00287, U.S. District Court, Southern District of New York (Manhattan).
Before it's here, it's on the Bloomberg Terminal.
LEARN MORE