Russia's Ruble Falls With Oil as Ukraine Threat Lurks Over Rally
by
Currency has lagged crude's jump into a bull market this week

Funds saw $167m inflows into Russian stocks in week: Sberbank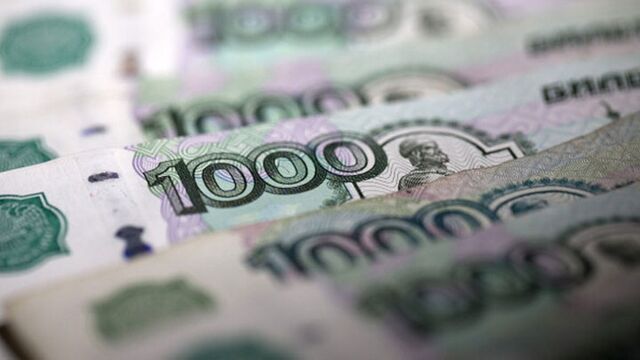 Russia's ruble declined, trimming its third weekly advance, as oil fell and concern grew that an escalation of tensions in Ukraine will thwart the currency's upward momentum.
The exchange rate weakened 0.4 percent to 63.9225 per dollar by 4:53 p.m. in Moscow, reducing its appreciation for the week to 1.3 percent. The ruble lagged a 7.6 percent rally in oil this week that brought it above $50 a barrel as Ukraine warned of a possible invasion by Russia, reigniting concern that geopolitical tensions will worsen. Government bonds and the Micex Index fell on Friday.
"The relative underperformance of the ruble is due to investors already being long the ruble and at the same time due to some nervousness creeping in amid rising tensions with Ukraine," said Koon Chow, a London-based strategist at Union Bancaire Privee.
Investors who set aside Russian political risk in their investment decisions are reconsidering this stance after President Vladimir Putin last week accused the government in Kiev of engaging in "terror" tactics in Crimea and vowed to respond with "serious measures." The nation's assets have been among the biggest beneficiaries of the rush into high-yielding assets in 2016 as a cease-fire last year calmed tensions with neighboring Ukraine and oil jumped from 12-year lows.
Growing Risk
The cost of insuring Russian debt against default for five years has increased 19 basis points since Putin's Aug. 10 comment, the most in the world after Bahrain, according to data compiled by Bloomberg. Putin on Friday sought to ease tensions, saying Russia doesn't plan to curb relations with Ukraine even as he convened a meeting in Crimea to demand heightened security measures on the peninsula he annexed in 2014.
Yields on the government's local-currency bonds due in February 2027 climbed one basis point on Friday to 8.34 percent.
For a story on the tensions between Ukraine and Russia, click here.
The Micex Index has fallen 0.7 percent since closing at a record high on Monday. Funds saw $167 million inflows into equities in the week ended Aug. 17, according to Sberbank CIB, which cited EPFR Global data.
"Investors may take a cautious approach today in light of the ruble's recent gains and the risk of unsavory events taking place in Ukraine/Crimea over the weekend," Sberbank CIB analysts Tom Levinson and Iskander Lutsko said in an e-mailed note, predicting the currency will trade in the 63.80 to 64 per dollar range.
While the ruble has outperformed all emerging-market currencies outside of Brazil in 2016, Vladimir Osakovskiy, an economist for Russia at Bank of America, said the nation's dwindling current-account surplus and prospects for monetary easing may impede further gains. The surplus fell to $16.4 billion in July from $50.6 billion a year earlier, while forward-rate agreements used to speculate on interest-rate movements foresee almost 60 basis points of easing in the next three months.
Much of the currency's rally "is already behind us as there could be further headwinds," said Moscow-based Osakovskiy. The bank expects the ruble will end the year at 65 per dollar.
Before it's here, it's on the Bloomberg Terminal.
LEARN MORE