RBS Imposes Negative Rates on Collateral for Trading Clients
by
Bank says policy affects some options and futures contracts

About 60 large clients said likely to be charged under plan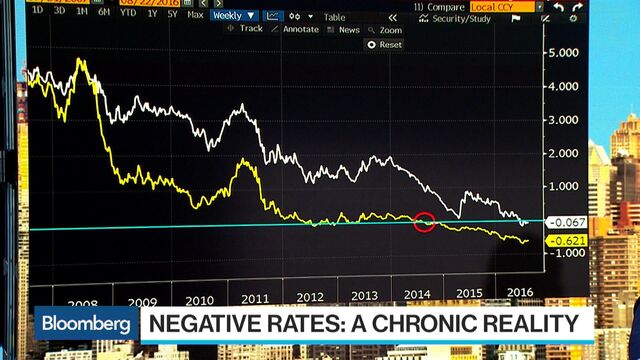 Royal Bank of Scotland Group Plc, Britain's largest taxpayer-owned lender, said some of its biggest trading clients must pay interest on collateral as a consequence of low central bank interest rates.
Some of the bank's institutional clients will need to pay interest on funds pledged as collateral when trading futures contracts, the bank said in an e-mailed statement on Friday. The changes for sterling and euro futures and options trading will probably affect about 60 large clients, a person with knowledge of the matter said earlier Friday.
Central banks across Europe have cut interest rates to record lows to stimulate economic growth. Bank of England Governor Mark Carney earlier this month unleashed a stimulus package, including the first interest-rate cut in seven years, as output falters in the wake of Britain's vote to leave the European Union. The move threatens to further crimp revenue of the country's biggest lenders as they face pressure to pass the cuts onto borrowers.
"Due to the sustained low interest rate environment, RBS will now be passing the cost of holding such deposits onto a limited number of our institutional clients," the bank said in the statement. RBS said it had previously applied a zero percent floor to the overnight rate charged for collateral required by clearinghouses for future traders.
While the most recent changes at RBS only affect large institutional clients trading derivatives, the U.K. lender has written to smaller business customers warning it could charge interest on commercial deposits if the BOE followed the European Central Bank into negative rates. The bank said last month it had no current plans to do so.
The Financial Times reported RBS's plan to implement negative rates earlier Friday.
Before it's here, it's on the Bloomberg Terminal.
LEARN MORE