Philippines Seeks Tighter Scrutiny, Stiffer Penalty After Heist
By
Central bank plans reserves against foreign exchange swings

Raising capital to $4.31 Billion to Be Proposed, Aquino Says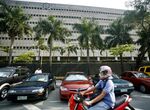 The Philippine central bank is seeking to tighten scrutiny and regulation of currency dealers, money-transfer and financial-technology companies after the country was dragged into one of the biggest ever bank heists.  
Bangko Sentral ng Pilipinas will ask Congress to expand the list of businesses it supervises to protect consumers and combat money laundering, Deputy Governor Vicente Aquino said in an interview in Manila. The expanded list will be among the planned changes to the central bank's two-decade old charter and the country's money-laundering law the regulator aims to pass within the next year, he said. 
"A more complex financial system requires greater attention and more oversight," said Aquino, 64, who was a former executive director of the country's Anti-Money Laundering Council, or AMLC, before becoming a central bank deputy governor. "What recently happened opened the eyes of the world to the dangers of cyber-attacks and fast-changing financial environment."
International Spotlight
The Philippines was thrown into the international spotlight earlier this year after hackers stole $81 million from the Bangladesh central bank. The funds were routed to the Philippines through accounts at Rizal Commercial Banking Corp., and then to a remittance company that wired the money to local casinos before the trail went cold.
The latest draft of proposed law amendments shown by the central bank also includes proposals to add casinos, real estate brokers, jewelers, art dealers and motor vehicle dealers to a list of institutions required to submit reports to the anti-money laundering watchdog.
The proposed changes also include a 1 million peso ($22,000) fine on erring companies, or 20 percent of amount of laundered money, whichever is higher. It also seeks to give the central bank authority to look into deposits and withhold transactions for two days. 
The central bank has already approached lawmakers in the House of Representatives and Senate to file the bill and sponsor it on their behalf, Aquino said. "These changes are needed to put more teeth in our fight against money laundering," he said.  
The central bank may quadruple its capital to 200 billion pesos, establish reserves against open-market operation costs and foreign exchange swings, and assume the power to issue its own debt certificates, according to the preliminary proposed revisions to its charter.  
Lifting of the deposit secrecy law to allow examination by central bank is also needed so authorities can probe bank and investment accounts, Aquino said. The central bank "will be more effective if it is amply protected by law," he said.