Obama to Tour Flooded Louisiana Region After Trump's Visit
By
President stuck to vacation activities in Martha's Vineyard

Obama heading to Baton Rouge next week, White House says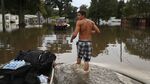 President Barack Obama will visit Baton Rouge next week, the White House said on Friday, following criticism that he had stuck to his vacation schedule even as unexpectedly severe floods ravaged parts of Louisiana.
The president discussed the flooding on Friday morning with Homeland Security Secretary Jeh Johnson, who visited the affected region the day before, the White House said in an e-mailed statement announcing the Aug. 23 trip. The announcement came hours after Republican presidential nominee Donald Trump made a high-profile visit of his own to survey flood damage on Friday.
The flooding in Louisiana was caused by one of the most severe U.S. storms in recent years, damaging an estimated 40,000 homes and leaving tens of thousands of people homeless.
Obama opted to stay on Martha's Vineyard, an island off the coast of Massachusetts, for the second of two weeks of vacation with his family as he did two years ago, when riots erupted in Ferguson, Missouri, during his annual trip. He has kept up a schedule of golf, dinners out and beach time, leading to mounting criticism that he was ignoring a growing U.S. crisis. Obama usually attends the annual fireworks show scheduled for Friday night in Oak Bluffs, the Martha's Vineyard town that for decades has been a summer playground of wealthy blacks.
"The president is mindful of the impact that his travel has on first responders and wants to ensure that his presence does not interfere with ongoing recovery efforts," White House spokesman Josh Earnest said in explaining why Obama won't go until next week. "He is also eager to get a first-hand look at the impact of the devastating floods, hear from more officials about the response, including how the federal government can assist."
Trump Visit
Louisiana Governor John Bel Edwards, a Democrat, told reporters at a press conference Thursday that this week wasn't the best time for Obama to come. When Obama travels, he requires a large entourage of law enforcement personnel to secure his routes that would divert resources from disaster response.
Trump traveled to Louisiana on Friday with vice presidential nominee Mike Pence, who is also the governor of Indiana. Trump spoke in Ascension Parish, between Baton Rouge and New Orleans, saying he was "just here to help," according to the Associated Press. Trump said "nobody understands how bad it is" there and criticized Obama for golfing, which the president did most recently on Thursday.
When a woman told Trump she was happy he wasn't off playing golf, the Republican nominee replied: "Somebody is, somebody is that shouldn't be."
President Briefed
The president often visits sites of natural or man-made disasters in the weeks or months afterward when the scenes are calm. But the White House usually steers clear of sending the president during the height of the response because of the disruption he and his security requirements cause. He never did go to Ferguson.
The White House said that Obama has been kept informed by aides and state officials on the crisis. Through the week, he has been briefed by Johnson, FEMA administrator Craig Fugate and his homeland security adviser, Lisa Monaco.
"Since last weekend's historic storms, the president has received regular updates on the situation in Louisiana," Jennifer Friedman, a White House spokeswoman, said in an e-mail.
Obama declared a "major disaster" on August 14, meaning affected residents can get federal money to help pay for home repairs, lodging while they're displaced and low-interest loans for property losses not covered by insurance. As of Thursday, more than 95,000 people had registered for assistance via the Federal Emergency Management Agency and more than $16.7 million in aid had been approved, according to the agency.
Obama's predecessor, George W. Bush, faced similar criticism in 2005 when he continued a vacation at his ranch in Crawford, Texas, rather than visiting Louisiana when Hurricane Katrina slammed into it. Bush first surveyed the damage from Air Force One rather than visiting people on the ground.
Before it's here, it's on the Bloomberg Terminal.
LEARN MORE