J.P. Morgan Asset Warns of Dangers of Waiting on Rates
by and
Strategist Bell says Fed ought to have lifted interest rates

Chance of an increase this year is below 50% in futures market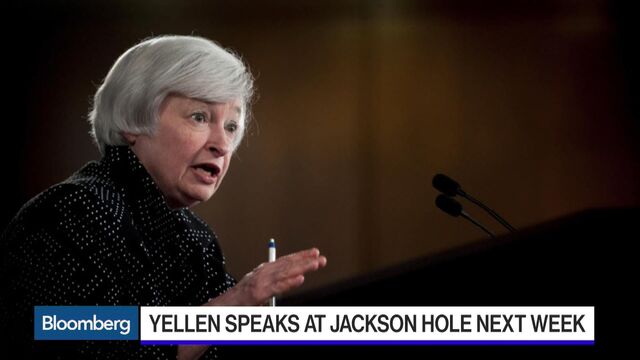 The Federal Reserve should have already raised interest rates this year and risks inflating asset prices by holding off, according to J.P. Morgan Asset Management.
The Fed is running out of excuses for not lifting borrowing costs, and may do so in December followed by two increases next year, Michael Bell, a global market strategist at J.P. Morgan Asset, told Bloomberg Television on Friday. Former Fed Chairman Alan Greenspan said in a Bloomberg Radio interview to be aired this weekend that U.S. interest rates will begin rising soon, perhaps rapidly.
While recent Fed rhetoric has been hawkish, minutes of the July policy meeting released Wednesday showed officials were split on whether a rate increase was needed in the near future. Treasuries rallied after the release of the minutes, while the probability of a rate increase in futures markets fell back below 50 percent. The Fed lifted borrowing costs in December, after leaving them near zero since 2008.
"By keeping interest rates this low for this period of time, they risk inflating the sort of search for yield that makes people buy stuff at yields that maybe don't make a great deal of sense in the long term," Bell said in the interview. "If they don't move now, then inflation could start to pick up, and then eventually they would have to raise interest rates faster than they would like to. That would cause problems."
Not 'Consistent'
The view policy makers will be on hold for a long time isn't "consistent" with what the central bank is saying, San Francisco Fed's John Williams said Thursday. Some investors including Loomis Sayles & Co., Pacific Investment Management Co. and Franklin Templeton have also warned that bond markets are underestimating the prospects for inflation and higher interest rates.
Greenspan repeated his previously voiced concern that the U.S. economy was headed toward a period of stagflation -- stagnant growth coupled with elevated inflation. He cited rising unit labor costs and money supply growth as catalysts for higher prices.
"If you look at the last crisis, one of the key causes of it was interest rates were held too low for too long," J.P. Morgan Asset's Bell said. "This is the point in the cycle when you don't want to be taking extreme risk."
(
Corrects to show Greenspan was commenting on interest rates in general, rather than the Fed specifically.
)
Before it's here, it's on the Bloomberg Terminal.
LEARN MORE