Heathrow CEO Says May Won't Snub China Twice After Nuclear Delay
by and
Chinese investors back both Heathrow and Hinkley project

Heathrow, in runoff with Gatwick, expects decision in October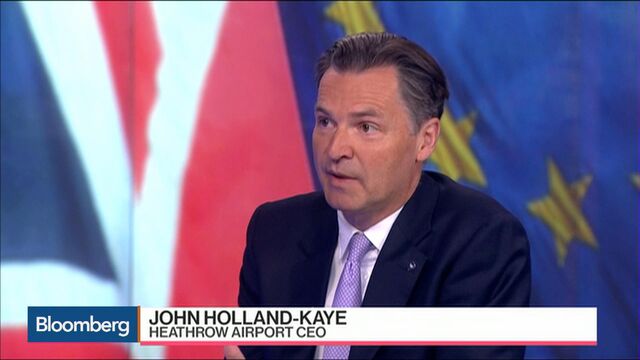 Prime Minister Theresa May's decision to delay a new nuclear plant backed by China makes it more likely that expansion at London Heathrow Airport, which also has Chinese investors, will win U.K. government backing, Chief Executive Officer John Holland-Kaye said.
The U.K. will be reluctant to fuel tension with China, which reacted angrily to May's decision last month to postpone the Hinkley Point power project, Holland-Kaye said. The government also will want to move ahead with other infrastructure proposals as it seeks to support the economy in the wake of the U.K.'s vote to leave the European Union, he added.
"She's trying to be conciliatory," Holland-Kaye said in an interview. "If they snub China twice -- who would do that?"
May is set to meet with Chinese officials next month during the G20 summit in Hangzhou, where she has said she will work on repairing relations. China Investment Corp. a sovereign wealth fund controlled by Beijing, is a 10 percent shareholder in Heathrow. China also has a minority stake in the 18 billion pound ($23.6 billion) Hinkley project.
October Decision
Holland-Kaye said he expected May's new government to decide on an expansion of Heathrow or Gatwick Airport by mid- to late October, after the Conservative Party conference. The vote to leave the EU won't affect the airport's ability to raise funds for the additional runway, he said in a separate interview on Bloomberg TV.
Of three big infrastructure projects proposed for the U.K., only one -- a 56 billion-pound plan to build a north-south high-speed rail line -- has received informal backing from May and her cabinet. After the delay of Hinkley, the first new nuclear plant in Britain in three decades, and the Brexit vote, the government will want to signal its support for the U.K.'s economy by green-lighting expansion of the country's biggest airport, Holland-Kaye said.
"Infrastructure is vital to the long-term and short-term economy," he said. "If they're not going to do Hinkley and they're not going to do Heathrow, what are they going to do?"
While a government-appointed commission concluded last year that adding a runway at Heathrow offered the best solution to the London area's looming airport constraints, Mayor Sadiq Khan favors Gatwick's rival plan. He urged May in a letter this month to opt for a new runway there instead, saying Gatwick expansion would provide the extra capacity needed, with a lesser environmental impact.
The 18.6 billion-pound estimated cost of expanding Heathrow is double the 9.3 billion-pound proposal for a second runway at Gatwick, but Holland-Kaye said it would provide a bigger economic boost.
Expanding runways at both Heathrow and Gatwick is unrealistic, he said. While the idea has been floated in Parliament, it would go against the Airports Commission's recommendation for expanding Heathrow. The option would probably also be contested by other airports in the southeast of England.
Before it's here, it's on the Bloomberg Terminal.
LEARN MORE