Get WhatsApp Updates From Bloomberg on India's New Central Bank Governor
Urjit Patel will lead the Reserve Bank of India after Raghuram Rajan's term ends in September.
Bloomberg News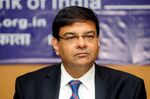 Update: Our WhatsApp list is now full, so we're unable to add any more users. However, we plan to run more groups in the future, so keep an eye on this page if you're interested in taking part.
You can also continue to find all the latest news on India's new central bank governor on our Facebook page and on our Bloomberg Asia Twitter account.
After weeks of speculation across the business and financial world, India's central bank finally has a new governor. Urjit Patel beat at least eight candidates and will replace Raghuram Rajan whose term ends Sept. 4.
The incoming chief, however, won't have it easy — inflation is rebounding, about $20 billion will leave the country between September-December as FX swaps mature, and state-run banks are entering the last stage of a $120 billion debt clean up.
Follow the instructions below to make sure you get all the top news and commentary by the Bloomberg News team.
Here's How You Sign Up
Add +852 6681 6051 to your phone's contact list
Call it Bloomberg News
Send that number a WhatsApp message saying "JOIN"
You will then start receiving alerts on the latest developments around India's new central bank governor.
Some Things to Note
Our group will be limited to 256 people, so get in early if you'd like to take part.
We don't want to flood you with messages so we'll only send you the big stories, breaking news and our top analysis.
If you would like to unsubscribe at any time, please message the word "STOP" to the same number and we will remove you from our list.
We will not share your details with anyone else, but we may ask you for some feedback at the end of our trial.