Get WhatsApp Updates From Bloomberg on India's New Central Bank Governor
Urjit Patel will lead the Reserve Bank of India after Raghuram Rajan's term ends in September.
Bloomberg News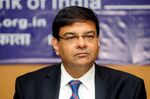 Update: Our WhatsApp list is now full, so we're unable to add any more users. However, we plan to run more groups in the future, so keep an eye on this page if you're interested in taking part.
You can also continue to find all the latest news on India's new central bank governor on our Facebook page and on our Bloomberg Asia Twitter account.
After weeks of speculation across the business and financial world, India's central bank finally has a new governor. Urjit Patel beat at least eight candidates and will replace Raghuram Rajan whose term ends Sept. 4.