Duterte's Anti-Gambling Campaign Sends Bingo Company Tumbling
by and
Shares in Leisure & Resorts World plummet most in eight years

Online bingo operator's license won't be renewed: regulator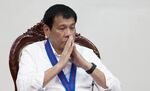 The Philippines' largest operator of electronic bingo games has become the latest victim of President Rodrigo Duterte's campaign to eradicate online gambling.
Shares of Leisure & Resorts World Corp. plunged 21 percent, the most in almost eight years, at the close in Manila after the nation's gaming regulator said it won't issue new permits or renew expiring licenses for electronic platforms of the numbers game. Leisure & Resorts President Reynaldo Bantug was out of the office and not available for comment, according to his staff.
Online bingo is the most popular form of electronic gambling in the Philippines, making up three-quarters of Internet gaming revenue in the first half, data from Philippine Amusement & Gaming Corp. show. Duterte, who took office June 30, has vowed to "destroy" online gambling in a campaign that's claimed the scalp of the chairman of PhilWeb Corp., a gaming technology provider.
"One can take these changes as the government overhauling and realigning the industry into something that is more controlled and regulated by weeding out the small gaming companies," said Jonathan Ravelas, chief market strategist at Manila-based BDO Unibank Inc., the nation's biggest lender. "But over the short term, these changes will be taken negatively as markets by nature don't like disruptions."
Leisure & Resorts controls 35 percent of the Philippines' bingo market, with 8,585 e-bingo machines installed across the archipelago as well as more than 100 bingo halls. The numbers game accounted for 9.62 billion pesos ($207 million) of revenue in the first half, out of a total of 12.69 billion pesos for all electronic gaming income, according to figures from Philippine Amusement & Gaming, the regulator that's known as Pagcor.
Ongpin's Offer
"We will not issue new licenses and we will not renew expired licenses in both e-bingo and e-games," Pagcor Chairman Andrea Domingo said Friday in a mobile-phone message.
Pagcor decided not to renew PhilWeb's license to supply it with electronic games last week and on Thursday rejected an offer by the company's former chairman, Roberto Ongpin, to give 49 percent of PhilWeb to state-owned Pagcor, which is a gaming company as well as being the industry regulator.
The issue isn't just about Ongpin or PhilWeb but the opposition of President Duterte's administration to online and onsite electronic gaming due to the "social ills and decay they foist on our communities as they cater to the more economically vulnerable portion of our population," Domingo said in a statement on Thursday. The campaign started with PhilWeb because it's license happened to expire, she said.
Ongpin revised his offer on Friday, proposing the donated stake be used by the government to build a nationwide network of drug rehabilitation centers. Pagcor has yet to respond. Duterte has initiated a nationwide campaign against drug dealers and users that his critics say is behind the killings of hundreds of pushers and addicts by police and vigilantes.
PhilWeb's shares plummeted 36 percent on Friday and are down 67 percent in the past month. Ongpin quit as chairman earlier in August after Duterte said the billionaire was among businessmen that have an undue influence on the government.
Before it's here, it's on the Bloomberg Terminal.
LEARN MORE