Deere Surges as Cuts Lift Tractor Maker's Profit Outlook
By
Company unexpectedly reports increase in quarterly earnings

Declining demand has spurred production cuts and job losses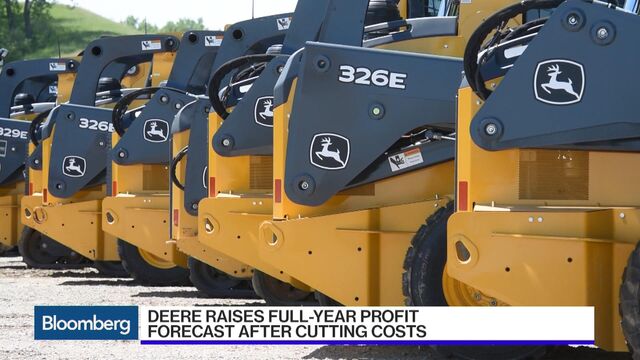 Deere & Co., the world's largest agricultural equipment maker, surged the most in almost eight years, defying a farming recession by raising its full-year profit after cutting costs.
The maker of green-and-yellow tractors closed 13 percent higher in New York after saying net income will be $1.35 billion in the year through October, compared with the $1.2 billion it projected in May. Moline, Illinois-based Deere also reported better-than-expected fiscal third-quarter profit and a 16 percent reduction in its cost of sales.
The cost cuts mean that Deere expects to boost pretax income by at least $500 million by the end of 2018, even if the current agricultural downturn persists at current levels, Chief Financial Officer Rajesh Kalathur said on a conference call with investors Friday.

There are scant signs of any rebound in tractor sales. The U.S. Department of Agriculture last week predicted a record corn crop, which will do nothing to reduce the global glut of grains and oilseeds that have sent crop prices -- and farm incomes -- lower in recent years.
With tractor inventories up at a seasonal record, Deere is searching for ways to improve efficiency. It has already shed thousands of jobs and cut capacity since 2013, most recently last month at an Illinois operation. Deere's plant in Waterloo, Iowa, which builds large tractors, and its Harvester Works operation in East Moline, Illinois, will see lower production rates in the company's fiscal fourth quarter compared with 2015 levels, Deere spokesman Tony Huegel said on the call.
Deere shares rose to $87.32 in New York. AGCO Corp., the world's third-biggest farm equipment manufacturer, climbed 6.8 percent to $49.85. Deere's efficiency goal excited investors, said Larry De Maria, an analyst at William Blair & Co. in New York.
"It's really about the cost-cutting over the next couple years," he said by phone.
The company also forecast full-year equipment sales falling 10 percent, versus a previous prediction for a 9 percent decline. It reported net income rose to $1.55 cents a share in the three months through June from $1.53 a year earlier. That exceeded the 94-cent average of 19 analysts' estimates compiled by Bloomberg. Machinery revenue fell to $5.86 billion from $6.84 billion, trailing the $6.06 billion average estimate.
"Deere continues to perform well in the face of challenging market conditions," Chief Executive Officer Sam Allen said in the company's earnings statement. "We are continuing to focus on ways to make our operations more efficient and achieve further cost reductions."

Microsoft Corp. co-founder Bill Gates's Cascade Investment LLC and Warren Buffett's Berkshire Hathaway Inc. are Deere's biggest shareholders with stakes valued at about $2.7 billion and $1.9 billion respectively, data compiled by Bloomberg show.