Chipotle's Food-Safety Crisis May Be Over But the Stock Is Still Way Down
by
Sales haven't recovered as marketing spending gets a boost

'They're going to have to find a different way to operate'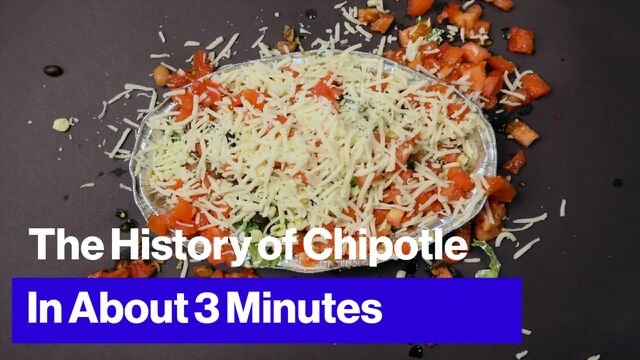 Maybe Chipotle just needs to grow up.
Before what's obliquely referred to as the food-safety issues -- the norovirus, E. coli and salmonella contaminations that sickened about 500 diners between July 2015 and December -- Chipotle Mexican Grill Inc. was a superstar that flouted some big-company norms. The investor relations team, for example, consisted of a single employee, working the IR job half-time to boot, and ad spending was sparing. But no problem, revenue grew an average 22 percent annually, and the stock kept climbing.
Then came the outbreaks, capped off by the indictment of one of the top four executives on charges he bought cocaine from a New York drug ring that was busted earlier this summer. The company has turned in three straight quarters of double-digit sales declines. The market capitalization is $11.5 billion, about half what it was 12 months ago. In March, Chipotle abruptly stopped issuing monthly sales reports, frustrating some investors.
The "free pass" Wall Street gave the company for nearly a decade has expired, said Stephen Anderson, an analyst at Maxim Group who recommends selling the shares. "They've been humbled" by the 47 percent drop in the value of the stock, which closed Thursday at $394.91. "They're going to have to find a different way to operate."
'Lumpy' Marketing
Chipotle has already started, with a new marketing campaign and what the company described as the largest media buy in its history. But Anderson and others said Chipotle has to do a lot more: speed up the introduction of mobile paying systems that rivals like Panera Bread Co. and Starbucks Corp. already have; shake up the board by bringing in more outsiders; and boost the investor-relations staff. It wouldn't hurt to resume monthly sales reporting, said Sara Senatore, an analyst at Sanford C. Bernstein & Co.
"People were surprised that they stopped giving out monthly comps," she said. "The messaging has not been consistent -- and that can be disruptive."
Senatore pointed to the way the quick-casual chain has typically sold itself to the public. Last year, Chipotle devoted $69.3 million to advertising and marketing, just 1.5 percent of sales; the industry average is about 4 percent. What's more, it spent big in some quarters, not so much in others, and the "lumpiness," Senatore said, "exaggerated the volatility of the business."
Ivan And Evie
Now ad spending is up and "we expect that will continue as we work to recover sales," said Chris Arnold, a Chipotle spokesman. In the first quarter it was about 6.6 percent of sales, and in the second quarter about 4.3 percent.
For all the pressure on Chipotle, nobody's asking it to be conventional by, say, running television ads showing mouth-watering shots of guacamole. "They definitely have a different culture that resonates with their consumer," said Joe Dennison, portfolio manager at Zevenbergen Capital Investments, which owned 95,296 shares of Chipotle as of March 31. "It would be disingenuous for them to come out with a mass TV commercial and jingle."
The company will mainly stick with what it has called its "unique" strategy of focusing on social-media efforts, videos and local marketing activities, such as the Cultivate festivals it has hosted with live music, local chefs, craft beers and exhibits about the dangers of genetically modified organisms. And it's keeping the Food With Integrity mantra, highlighting its commitment to locally sourced produce and pasture-raised animals.

The latest marketing video, "A Love Story," came out last month to promote the new loyalty program, Chiptopia, which offers rewards of food and swag for various levels of entree purchasing, and a chance to win a year's worth of burritos. The video is about Ivan and Evie, who build rival fast-food empires that spiral into nightmares of chemical preservatives and artificial flavors before they come to their senses to embrace natural ingredients, and each other. Chipotle said last month it had been viewed more than 17 million times.
The company hired former Starbucks executive Curt Garner as chief information officer in November, to catch up in the rewards arena, and in technology. Starbucks has 12.3 million rewards members in the U.S., and Dennison said the program has been "a big part of Starbucks being able to increase transactions." Still, so far, it's unclear whether whether Chiptopia is helping lure more customers, the company said in a regularly filing.
An avant-garde attitude is partly what made the chain such a success after it was spun off from McDonald's Corp. in 2006. Founder and co-Chief Executive Officer Steve Ells has for the most part refused to add items to the relatively simple menu of Mexican-fare basics. He has, though, begun to branch out in other ways, with the five-year-old ShopHouse Southeast Asian Kitchen chain, and a new burgers, fries and shakes joint called Tasty Made that will open this fall in Lancaster, Ohio.
'Entrenched And Insular'
But in some ways, Chipotle has been stuck. Most of the nine directors -- all of them white, only one of whom is a woman -- have strong ties to the Denver area, where the company is headquartered. CtW Investment Group, which works with funds that own about 55,000 shares, said in a letter to stockholders in April that a "flawed recruitment process" has resulted in "an entrenched and insular board with a startling lack of racial and gender diversity." Ells has been chairman for 11 years; six directors have served for more than nine.
"More independents may very well be necessary," Anderson said. "There's been some criticism from the street and the investor community that they have become out of touch with investors and out of touch with anyone who is questioning the way in which they operate."
Arnold, the spokesman, said changes are on the way. "We are interviewing for one new board member now, and considering additional board changes to meet longer term needs."
The hangover from the food-safety crises may last a long while. Chipotle is facing years of legal actions, according to Bloomberg Intelligence analyst Jennifer Bartashus. In addition to lawsuits by consumers, a class-action complaint was filed in federal court on behalf of some shareholders who allege the company failed to disclose inadequate procedures.
In March, Chipotle hired Jim Marsden, a former professor in Kansas State University's Animal Science and Industry Department, as executive director of food safety. The chain revamped protocols, vowing to make its restaurants the safest in the industry. The new measures, the company said, will increase food costs by about 2 percentage points -- and in some ways undermine the chain's core creed about freshness and local sourcing. Tomatoes, for example, are now being diced at large commissary kitchens instead of at restaurants. But the well-being of diners is the highest priority, executives have said.
Investors will have to be patient. Chipotle has "made up a lot of ground" since sales hit a low in January, Arnold said, but "this kind of recovery takes time."
Before it's here, it's on the Bloomberg Terminal.
LEARN MORE