Brexit Bulletin: Pro-Leave Economists Can Smell Vindication
The tech and finance sectors look to forge new deals, as pro-Brexit economists ask: 'What's not to like?'
By and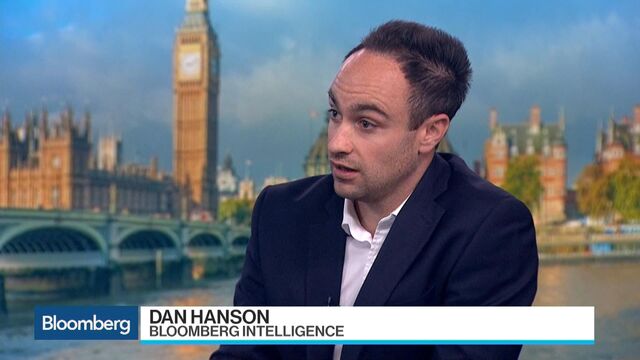 Sign up to receive the Brexit Bulletin in your inbox.
This week's raft of U.K. economic data put a new spring in the step of those who believe (or hope) that Brexit will simply mean Brexit, not national calamity. 
The figures show that British consumers are on their biggest summer spending spree in 14 years and that the labor market is remaining resilient despite the Brexit vote. That's put a spring in the step of economists who backed the "Leave" campaign and deride the doom-laden forecasts as "Project Fear."
"I don't smell any fear," said Patrick Minford, a professor at Cardiff University and co-chairman of the Economists for Brexit campaign group. "What I smell is people going about their business looking perfectly calm. Their incomes are growing, employment is at an all-time high, unemployment is at a low, there's loads of credit available. What's not to like?"
Careful With That Data
Technology companies are warning that leaving the European Union could end up blocking digital traffic and stifling a fast-growing part of the British economy.
When consumers across the bloc go shopping online, their credit-card details and other personal information often zip across borders to giant data centers in the U.K. That leaves their online data intimately bound up with the European Union, Bloomberg's Michael Scaturro reports.
Companies now want the U.K. government to negotiate a deal that keeps Internet borders open.  The U.K. houses about 500 server farms, representing almost 43 percent of data-center capacity in Europe's four biggest digital hubs—Germany, France, the Netherlands and the U.K.—according to data supplied by TechUK.
City Wants Swiss Model
Britain's finance industry has given up hope of the U.K. continuing to have free access to the EU's single market and is now seeking bespoke trade deals for its different sectors, according to the Financial Times.
A City of London taskforce is close to recommending to Prime Minister Theresa May that she seeks a Swiss-style relationship with the EU in which individual services are still provided to EU customers tariff-free so long as regulations are similar to those in the bloc, the newspaper said. Unlike Switzerland, the proposed U.K. plan would allow banks access the EU. 
Italy Goes For Growth

Italy is seeking an expansionary push for growth in the EU following the U.K.'s vote to leave, Prime Minister Matteo Renzi's junior minister for European affairs said.
Undersecretary Sandro Gozi told Bloomberg's John Follain he wants a wide-ranging agreement to boost cooperation on security and defense as well as an expansionary economic policy to propel European growth.
"We need to increase and reinforce EU action on security and defense, including rapidly launching the European policing of its external borders," Gozi said in a telephone interview.
Fed Still on Guard
The Federal Reserve is still watching for contagion risk from Brexit, although the central bank's July minutes, released earlier in the week, downplayed such concerns.
Dallas Fed Bank President Robert Kaplan said the U.K. vote to leave the EU means slower growth in Europe although he suggested the impact on the U.S. would be modest.
On the Markets
Bloomberg New Energy Finance cut its outlook for pollution prices by 14 percent amid uncertainty over Britain's future participation in the EU carbon market. Britain is the 28-nation bloc's third-biggest emitter.

The pound headed for a weekly advance after the positive U.K. economic data, while European stocks declined on Friday as banks and insurers slid and investors assessed valuations.

And Finally...
U.S. presidential hopeful Donald Trump is hoping to repeat the success of Brexit supporters. As he trails in the polls behind Democrat Hillary Clinton, the Republican yesterday took to Twitter to declare himself "Mr Brexit," in anticipation of a come-from-behind victory in November. People were confused.
For more on Brexit follow Bloomberg on Twitter, Facebook and Instagram, and see our full coverage at Bloomberg.com
Before it's here, it's on the Bloomberg Terminal.
LEARN MORE