Nike Capitalizes on Team USA's Basketball Wins, Sidelining Under Armour
By
Team USA sponsor Nike has shoe deals with 9 of 12 players

'What an unfortunate missed opportunity for Under Armour'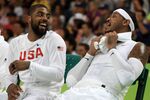 Some of the Rio Olympics' most decorated athletes flashed their Under Armour gear over the last two weeks, including Team USA's women's gymnastics juggernaut and 23-time gold medalist -- and company pitchman -- Michael Phelps.
Even so, the Baltimore-based company is missing its most famous face. The U.S. men's basketball team is marching toward its sixth gold medal in seven Summer Games, and Golden State Warriors guard Stephen Curry is nowhere to be seen. The two-time NBA MVP put rest and recovery ahead of a trip to Rio, limiting Under Armour Inc.'s ability to promote its brand and leaving it without a presence on the Team USA men's basketball team.
"What an unfortunate missed opportunity for Under Armour," said Scott Becher, executive vice president of sports and entertainment at Zimmerman Advertising. "It hurts when you have global growth ambition and your most high-profile ambassador sits out the world's biggest sports event."
The company had planned to spotlight Curry's trip to Rio in a six-month ad campaign to run before and after the games -- a first for Under Armour, which was until this year stifled by the International Olympic Committee's strict rules on marketing by companies don't sponsor the games.
Nike's Monopoly
Without Curry, the U.S. men's basketball team, which plays in the gold-medal game at 2:45 p.m. Sunday, becomes a near-exclusive showcase for Nike. The company sponsors Team USA, which requires players to wear Nike-branded apparel at all official Olympic events. It also has shoe deals with nine of the 12 players on the USA Basketball roster, including superstars Kevin Durant and Carmelo Anthony.
Although the Adidas billboard known as James Harden also skipped the Olympics, the company can still tap Harrison Barnes and Kyle Lowry. Curry's Golden State teammate Klay Thompson has a deal with China's Anta Sports Products Ltd.
NBA All-Stars Chris Paul, Blake Griffin and Anthony Davis also sat out the Rio Games. Matt Powell, an analyst with NPD Group, said it's unprecedented that so many NBA stars, not to mention highly compensated endorsers, would abandon the chance to play -- and pitch -- before a global audience. A number of top golfers, including Jordan Spieth, also sponsored by UA, didn't go because they said they were concerned about the Zika virus. "Never seen anything like it," Powell said.
Spokespeople for Under Armour and Adidas, as well as Curry's agent, Jeff Austin, declined to comment.
Missing Out
How much a company really loses by having its stars sit out is an open question. USA Basketball has been associated with Nike for a long time, said David Falk, who represented Michael Jordan during his playing days. "Nike is such a dominating influence that it (any message from another brand) might have gotten lost," Falk said.
In China, an increasingly important market for shoe companies, the opportunity cost might be greater. The company is taking Curry on a five-day tour of Asia that begins Sept. 2, and a star turn on the Olympic team would have helped focus the world's attention, Becher agreed.
During a July conference call with analysts, Under Armour Chief Executive Officer Kevin Plank said he hoped for at least $150 million in sales in China. He also attributed UA's 157 percent year-to-date increase in online sales to China, where 300 million people play basketball and where the game is the No. 1 team sport, according to the Chinese Basketball Association.
Curry is already tremendously popular in China. He has had the No. 1 selling jersey there since the start of the 2015-16 season. Globally, Under Armour's Curry 2 shoe now outsells LeBron James's line, which is Nike's top-selling footwear category after the Jordan brand. Adding an Olympic gold would only burnish his appeal.
"Under Armour lost a chance to make a global statement," Becher said.
Watch Next: Athletes Have Always Cheated, And They May Never Stop